Written by Calli Armstrong of Smith, owner of Nowhere Nevada Photography
If you have ever found yourself driving through rural Nevada, attending a local ranch rodeo, cutting, cattle auction, or team roping, you've probably heard their last name. This third generation ranching family is no stranger to the western lifestyle, but it's the sweet, six year old son pictured here whose passion for the cowboy way of life led to this business' namesake, Nevada Steer.
You might recognize these faces, but there's an incredibly inspiring story of selflessness and family heritage in this life behind the photo.
We have the pleasure of introducing you to Vanessa Masini, the one-woman show behind Nevada Steer, a business she runs out of her home in Yerington, Nevada where she offers apparel and accessories. Vanessa is a Reno native – her husband lovingly refers to her as the "transplant" since she left the city for wide-open spaces. She is the only one in her family who grew up with a passion for horses that started when her parents won a silent auction bid for riding lessons when she was just seven years old. In her youth, she rode hunter jumpers and then transitioned to cutting horses when she worked for Rancharrah and began competing herself. This gave her the opportunity to travel the west coast, make lifelong friendships, and eventually meet her husband.
Vanessa's husband Bryson is a third generation Nevada rancher and all around cowboy.
He comes from a ranching family that raises feeder cattle across the state. They grow a diversity of crops to sustain their animals as well as sell produce for human and animal consumption. They have three children, all who participate on the ranch. The biggest fan of the apparel is their 6 year-old son, Nash. He is the first to wear any new product, and there's not a day you wont find him dressed head to toe in his "cowboy clothes", only willingly trading out his cowboy hat for one with the "Nevada Steer" on it. It was his title of endearment that led Vanessa to naming this business.
It all began with a logo that was created in 2017 by Vanessa's mother, the creative genius behind the design. Once their friend, Sara Oroz, helped bring it to fruition, they printed the image on a few hats and the demand was instant! People loved the image as much as they loved the family, but it was truly about the nod it gave to the western community within Nevada.
So the notion struck Vanessa to create a brand that everyone could rally behind – a brand that encompasses all of those that live or support Nevada's western lifestyle. She said it best when she decided to selflessly represent all Nevadans, not just their own family, "Let us connect with those who have a love of animals and livestock. Let us symbolize the working cattlemen and women, ranchers and sportsmen that preserve the cowboy way of life."
Likewise, Nevada Steer also speaks to the "gentlemen's cowboy" – the individual, who may not wear the button down shirt and cowboy hat for work everyday, but enjoys attending the rodeo or sipping a beer by the campfire. Her goal is to provide a unique retail brand that offers comfortable and durable apparel for all to wear. We are honored to help her showcase another side of Nevada.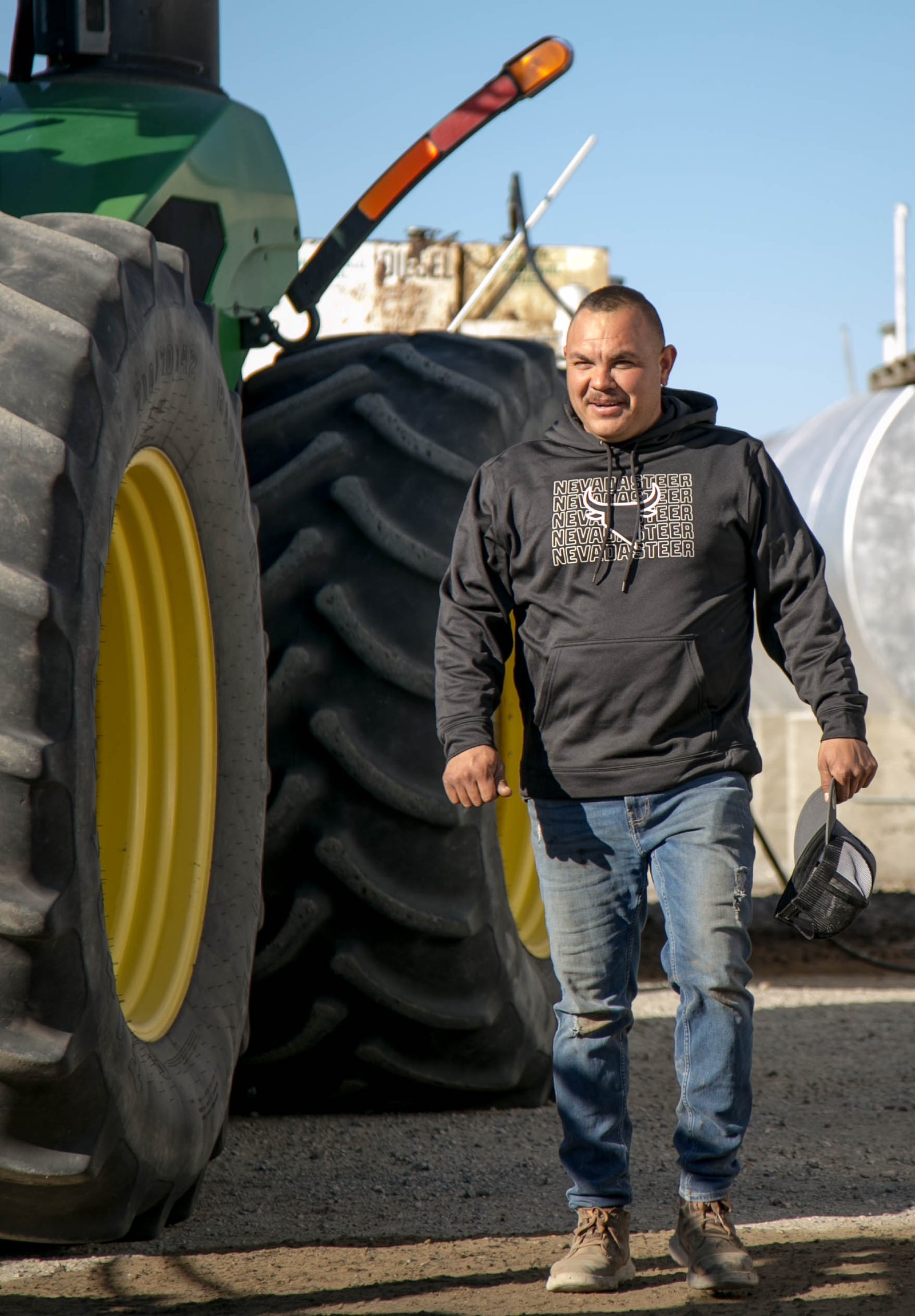 For now, Nevada Steer products include clothing options like shirts, sweatshirts and tanks as well as a variety of hats and stickers. Their sales are conducted through Nevada Steer's website www.nevadasteer.com as well as in-person at public events, local markets and livestock competitions. Be sure to check out their website, Facebook and Instagram for updates on events they will be attending!
Please take a moment to tip your hat to this lady and her family who not only represent hard work and agriculture, but their brand puts the true roots of Nevada in the spotlight – the rural, western way of life. It reminds us all to be a cowboy – simple, honest, hardworking. Thank you, Vanessa, for sharing your morals and traditions with all of us and highlighting the Nevada we love best!