Dale and her sister Karen operated the Victorian Inn in Yerington, Nevada for many years. Dale and her husband, Dave, raised their children Shaun, Angela, and Sam in Mason Valley. Shaun & his wife, Stephanie live in Mason Valley with their sons Josh & Daniel.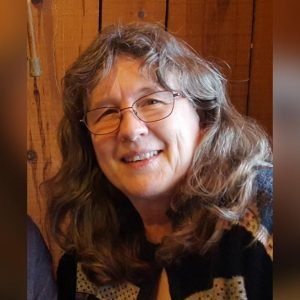 Thompson-Larson Funeral Home in North Dakota wrote:
"Frances "Dale" Black, of Bowbells, ND, passed away Sunday, June 6, 2021, at Trinity Hospital in Minot, ND.
Dale was born Aug 20, 1953, in Bieber, CA.  She was the 7th child of William J. and Mary E. (Larkey) Preheim. She grew up in Bieber and Grass Valley, CA. She graduated from Western Baptist College in Salem, OR. After college she met and married David Black. They had just celebrated their 45th wedding anniversary this year.
Dale lived life to the fullest and wasn't afraid to try new things. She spent a summer in Israel working on a kibbutz when she was in college. She and Dave were active in Hard Hats for Christ for many years before traveling full time for 2 years as missionaries helping to build churches around the U.S. She worked side by side with her husband on construction projects. She helped her husband with his construction business keeping the books. She and her sister Karen owned and operated a motel for 12 years. Since moving to North Dakota, she worked at Kenmare Hospital as a cook.
She was an active member in many churches throughout her life, including most recently Faith Baptist Church in Kenmare. Dale loved to garden and spend time outdoors. She home-schooled all 3 of her children. She was a person who was always willing to help someone in need. She enjoyed making clothes and quilts for people. She loved to spoil all of her grandchildren and they all loved her. She loved to do craft projects with them making jewelry, sewing, and cooking. Everyone who knew her loved her infectious laugh.
She was preceded in death by her parents, William and Mary Preheim, siblings Sally Beth, Samuel Preheim and Bruce Preheim.
She is survived by her husband, David Black; and children, Shaun (Stephanie) Black, Angela (Casey) Potts and Samuel Black; grandchildren, Josh, Daniel, Abigail, Levi, Rudy, Veronica, and Kylie; siblings, Loren Preheim, Roberta Bennett, Richard Preheim and Karen Parsons; as well as numerous nieces and nephews.
A Service was held at Faith Baptist Church in Kenmare, ND Wednesday, June 16th, at 11:00 am and was live-streamed on youtube."