Annett Crow
March 24, 1941 – June 06, 2021
Well-known Yerington educator Annett Louise Crow unexpectedly passed away at her home in Sparks, NVwith her daughters by her side on June 6, 2021.  She was 80 years old.
Annett was born in Yerington, NV on March 24, 1941.   She was raised by her parents, Warren and Arena Lewis on the Wichman, Flying M, Lewis and Rafter 7 Ranches where she lived with her brother, Walt Lewis and sister, Arlene Lewis Fredrickson until 1959. She loved ranch life.  Annett worked side by side with all the ranch hands, sometimes the only female.  She loved horses and was a competent rider.  For two summers she served as the Lewis Rranch cook where she fed all the ranch hands.  She made $5.50 a day.
She attended school in Yerington, NV and graduated in 1959 from Yerington High School as class Valedictorian.  She served on many clubs and councils.  She was elected to Girls State. She attended the University of Nevada Reno from 1959-1963 receiving her degree in Secondary Education with an emphasis in English.  She met her husband Johnnie Crow while attending college.   Johnnie and Annett were married on June 16, 1963 at the Methodist Church in Yerington, NV.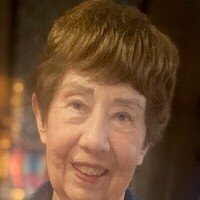 Johnnie and Annett lived in Reno, NV for a few years teaching in the Washoe County School District. They decided to move to Yerington, NV to raise their two daughters, Nanette and Suzanne.  Annett went on to teach for 30 years for the Lyon County School District and finished her career where she built the Adult Education Program for Lyon County School District.  Her 30 years in education has left a lasting impact on many students and adults.
After retirement she served on the Lyon County Drug and Alcohol Abuse Board, Yerington Gini Dini Theatre of the Arts Council, Yerington Hospital Auxiliary and continued to administer the John L Crow Memorial Scholarship through 2021.
She enjoyed playing bridge with her friends and adored the time she spent with her family.  She was preceded in death by her father, Warren Lewis; husband, Johnnie Crow; and mother, Arena Lewis.  Nanette and her husband, Craig Chisum live in Sparks, NV.  Suzanne and her husband, Ryan Elliott live in Sparks, NV.  She has 2 grandsons she loved dearly, Jaxon and Hudson Elliott.  Her favorite four-legged daughter, Lily, will be living with Craig and Nanette.
The family suggest donations be made to the John Crow Memorial Scholarship Fund to the Lyon County School District at 25 E. Goldfield Ave. Yerington, NV 89447.  Eventually the scholarship will be renamed the John and Annett Crow Memorial Scholarship.
Services will be held on June 26, 2021 at 2:00 PM at the Yerington Vineyard Fellowship Church, 307 Broadway Avenue, with graveside service to follow at Valley View Cemetery.  Celebration of life will be held at the Pioneer Crossings Convention Center starting at 4:00 PM.  Family and friends are invited to sign her online guest book at www.FRFH.net
Arrangements are under the direction of Freitas Rupracht Funeral Home, 25 Hwy 208 Yerington, NV 89447 (775) 463-2911.