Mason Valley, Nevada ~ Saturday, October 28th, 2023
Some people take for granted that a perfect photo can be 'snapped' with a cellular phone camera without too much planning. Local Photographer Richard Massey takes us on his adventure to capture "The Full Moon Y at the Walker River Bend". Thank you, Richard! ~ Pizen Switch Times
Richard wrote, "The goal was to find a bend in the river that was pretty much running east to west. But more than that, I wanted to have the big Y on Y Mountain in the shot. What else could say Yerington more than that? Because the Y is a couple miles from the river, I knew I would need a telephoto lens (150mm) to compress the scene and really bring in the Y. With a wide angle lens the Y would just be a small white speck in the distance.
"The purpose of this exercise was to find a good location for a picture that I want to take for an upcoming magazine feature about Mason Valley. The final shot will include two kayakers with their dogs on board. Debbie and John Dibble of Mason Valley's Dogs in Bloom have kindly volunteered to do this next spring/summer when the water levels are back up.
"Using Google maps, I brought up a large map on my computer screen that showed Mason Valley. With a straight edge laid on the screen, I swung an arch from the Y on the distant hill to see if anything lined up. To my surprise, I found what seemed to be the perfect location. From the map I could determine what road to go down. Must admit, I was pretty excited to think my plan might actually work.
"I anxiously headed out to find the location. As I approached the turn-off from Highway 339 there were signs saying, 'Keep out. Private property!' There were no gates and I could have easily driven down to the river to check it out. But, being the responsible citizen that I am, I tried to think of a way to make lemonade out of lemons.
"Our friend Michael Roberson (Roberson Realty) to the rescue! Michael is an amazing resource on all matters relating to real estate. I sent him an email asking if he could find out who owned the property and if there was a way to contact them. Within five minutes he sent me a text with the owner's name and phone number. I called the owner and she generously gave me permission.
"I headed back to the location and was rewarded with the perfect view…exactly as I had pre-visualized! This was meant to be a simple scouting trip for the future picture. As I did a few test shots, I recalled that that evening there would be a full-moon. Since my camera would be facing pretty much east, I thought I would check to see where the moon would be rising. Using my phone's PhotoPills app, I determined exactly where and when the moon would be in a good location.
Attached is the final shot. It is greatly reduced for the internet."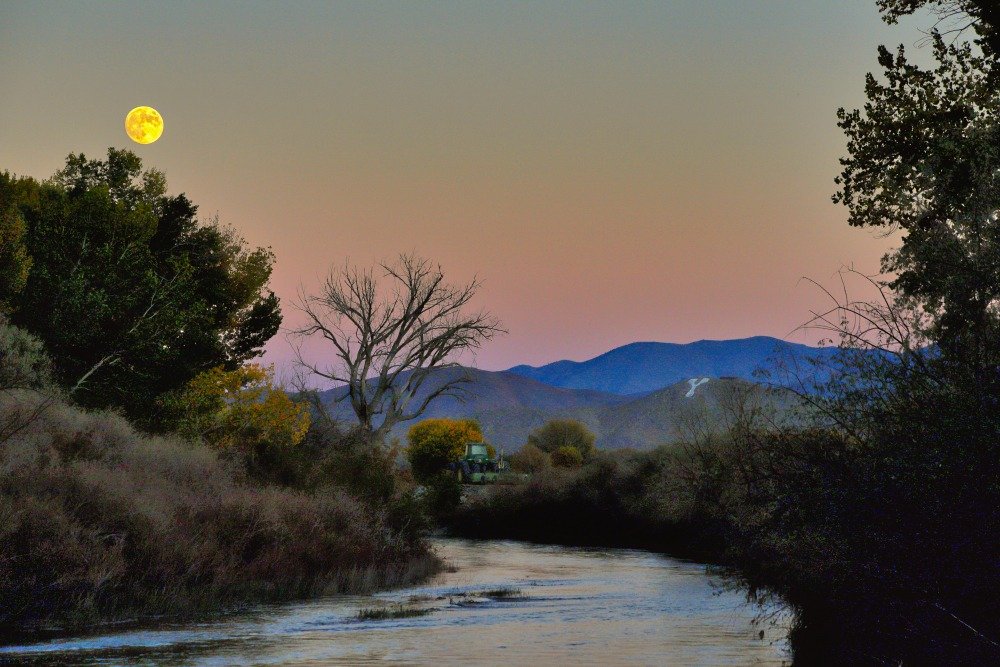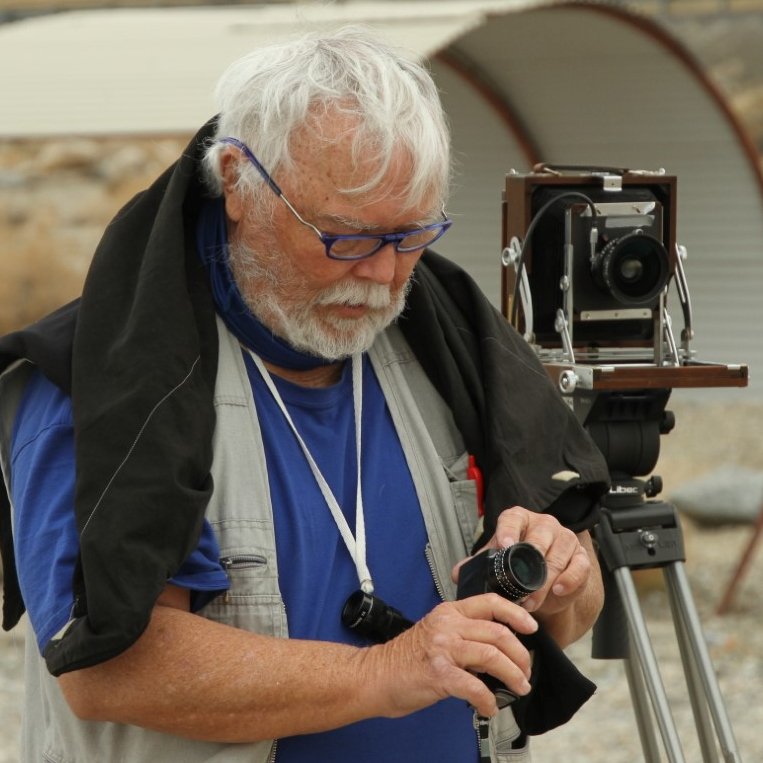 Richard Massey is an international award-winning photojournalist and freelance-writer. He has a passion for film and does much of his photography using vintage film cameras…as seen here. His interest in teaching has led him to start a photography YouTube   channel: https://www.youtube.com/channel/UChdW0Jjsca47EpKE5N_jtag