On Monday, March 27, 2023 Jay Reconzone, adored husband and loving father of three children passed away at the age of 86.
Jay was born on March 18, 1937 and raised in Yerington, Nevada, the eldest of two children to Ed and Esther Reconzone.
Jay attended Yerington High School and Arizona State University before serving two years of military service in the Marines and returning to Yerington, Nevada where he married Jean Ivey. Together they had three sons, Richard, Paul, and Edmond.
Jay worked in retail, ranching, and construction. Eventually divorcing, Jay made his way to Stateline, Nevada, where he completed his career as a pit boss for Harrah's. In Stateline, he met and married the love of his life, Jan, and gained two more children, Karl and Tracy.
Jay was passionate about serving others- he was kind and generous. He was a member of the Yerington Masonic order and was dedicated to Rotary, where he served in many leadership positions. Jay lived the Service Above Self philosophy- he loved the unloved and always placed a higher value on feeding a child than getting recognition for providing for a child. His service was quiet and without the need for recognition- pins, medals, and certificates were no incentive for Jay- he served his community because he loved the community.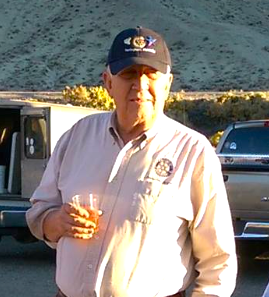 Jay's love for his wife, Jan, was unparalleled. They had 30+ years of a marriage full of love, being each other's best friends with a deep mutual respect that was much admired by all who knew them.
Jay was preceded in death by his mother, Esther, and his father, Ed. He is survived by his wife Jan, his sister Joan Harned; his children Richard, Paul, and Edmond; his bonus-children Karl and Tracy, his grandchildren Erin, Ryan, Sera, Ivey, Alan, and Laurel and bonus-grandchildren Michael, David, Gabriel, Caleb, True, and Luca, and his nephews Doug, Sam, Tom and Jon, and numerous cousins.
Memorial service:
May 13th, 1pm
Freitas and Rupracht Funeral Home
25 Highway 208
Yerington, NV
Community Welcome
Reception to follow at the Reconzone Residence:
34 Poplar Dr
Yerington, NV
In lieu of flowers, the family asks for donations in Jay's name to:
Yerington Rotary Scholarship
PO Box 1502
Yerington, NV 89447
Family and friends are invited to sign his online guest book at www.FRFH.net.  Arrangements are under the direction of Freitas Rupracht Funeral Home, 25 Hwy 208 Yerington, NV 89447 (775) 463-2911