Update : A memorial service for Margaret will be held 11:00 am, Saturday, June 17, 2023 at St Alban's Episcopal Church, 12 North West Street Yerington.  A reception will follow the service at the church.
Margaret Miller Spooner passed away on Thursday, April 6, 2023 at Carson Valley Medical Center in Gardnerville, Nevada after suffering a fall and ultimately succumbing to pneumonia.
She was born January 2, 1932 in New York City the daughter of Birney and Catharine (Rawlings) Miller.  Margaret's early years were spent in Pennsylvania, graduating from Lansdowne High School.  She then attended and graduated from Middlebury College in Vermont.
Margaret worked many years in the business world ultimately becoming a Real Estate Broker, where she received many achievement awards.  She partnered with her husband, Ken, forming KM Management and Ken Mar Homes, Ltd. while in New York.  Their businesses prospered and ultimately were closed when Margaret and Ken retired and moved to Yerington, Nevada.  The move culminated a decades long love of the West and desire to live there.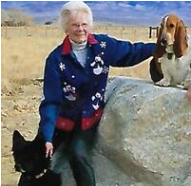 When Margaret moved to Yerington with Ken she rapidly blended into her 'new' community that she so dearly loved.  Margaret was past-President of the Lyon County Republican Women, a member of Lyon County Republican Central Committee, the Nevada Federation of Republican Women and served as a Governor's appointment to the Silver Haired Legislative Committee in Carson City.  Further, Margaret enjoyed serving as treasurer for then-secretary of St. Alban's Episcopal Church.  She was an avid reader and a frequent patron of Lyon County Public Library.
Margaret is survived by her husband, Ken Spooner of Yerington; her daughters, Susan Lippincott (Brantley) of Dallas, Texas, Dian Johnson (Skip) of Hadley, New York, and Gail Pollard (JC) of Branchport, New York; her grandchildren, Karen, Lisa, Emily and Jesse; and her great-grandchildren, Lydia, Hanna and Tabitha.
She was an irreplaceable woman – may God Bless and keep her.
Family and friends may sign her online guest book at www.FRFH.net
Arrangements and cremation are under the direction of Freitas Rupracht Funeral Home, 25 Hwy 208 Yerington, Nevada 89447 (775) 463-2911