Pizen Switch Times is pleased to introduce Mason Valley resident, Bob Weiser with his review of the recent Jakota Wass concert event that took place on Saturday, March 11, 2023 at the Yerington Theatre for the Arts.
Bob Weiser :   "After twenty plus years of attending various performances at the Jeanne Dini Center and other venues in Yerington, there are two that stand above and beyond the rest. One was Michael Martin Murphy at a steak dinner fundraiser for the Boys and Girls Club…The other event was by a young musician named Jakota Wass from Gardnerville, truly a "local boy makes good" who literally "rocked the house" Saturday night.
Talk about a high level of energy, this nineteen-year-old up and coming artist/showman delivered what Yeringtonites would call their own kind of music! With very strong vocals and energetic acoustical guitar skills, he and his band really wowed the crowd!
Accompanied by Miss Carter on the fiddle, who played also energetically and masterfully and sang quite well too. The electric lead guitarist, Dennis, obviously a bit more "seasoned" than the other performers, demonstrated convincingly that this was definitely not his "first rodeo" on lead electric guitar.
I congratulated him on being able to keep up with the younguns pace to which he replied, "It's hard!" but he did so well!
And, to my great surprise, who would perform as the master of percussion but neighbor Ken, delivering the beat so persistently, especially during the accelerated pace portion of the Johnny Cash medley!
The bass guitarist Matt, also a local musician, was notably reticent but provided the background rhythm so necessary to a great performance.
Lots of talent in Yerington! All in all, this offering by the current board of directors of the Theater was a definite five-star selection and its highest endorsement can only be that we want more of Mr. Jakota Wass and his band!"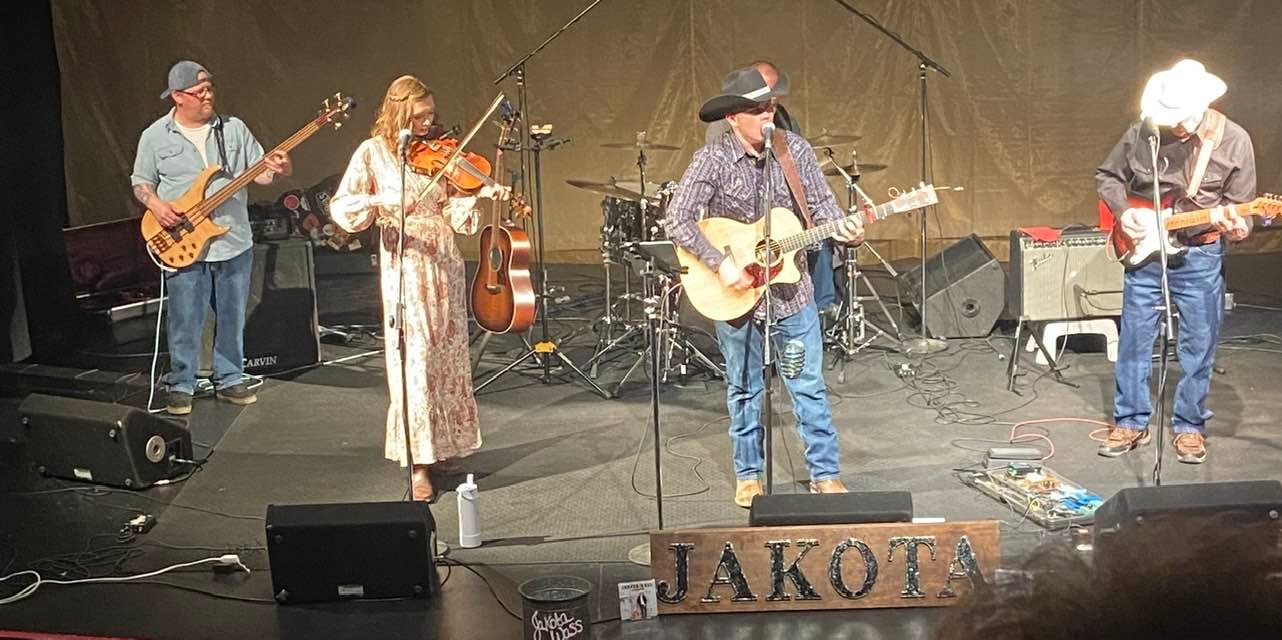 Pizen Switch Times thanks William Swirsky for the photo he posted for Jakota Wass.