Dorothy Jean Ahern passed away on Saturday, July 9, 2022 at the Fernley Estates Assisted Living in Fernley.  She was 88.
Dorothy was born in Yerington, Nevada on January 19, 1934.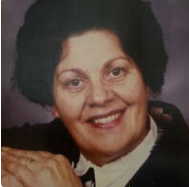 Dorothy's Graveside service will be held 2:00 pm on Friday, July 15 at the Valley View Cemetery in Yerington with Father Jesus Ballesteros officiating.  A Rosary will be held at a later date at St. John Bosco Church in Battle Mountain.
Family and friends are invited to sign her online guest book at www.FRFH.net
Arrangements are under the direction of Freitas Rupracht Funeral Home, 25 Hwy 208 Yerington, Nevada 89447 (775) 463-2911.