Trevor Michael Wilson : June 27, 1981 – December 18, 2021
Trevor Michael Wilson, 40, of Spring Creek, Nevada passed away on December 18, 2021 at Renown Regional Medical Center in Reno. Trevor was born on June 27, 1981, in Yerington, Nevada. He is survived by his parents, Franklin and Kimothy Wilson; siblings Trinity Wilson (Benjamin Reed), Tymber Moon (David Moon), Tristan Wilson; and many close friends.
At his request, traditional services will not be held, and his ashes will be scattered at the places he loved the most.
From a young age, Trevor displayed an inquisitive nature and thirst for knowledge. He would often be found reading the encyclopedia, which turned into hours spent on Wikipedia and other online research in recent years. After graduating from Elko High School in 1999, he attended Fordham University in New York City, graduating with a B.A. in Communication and Media Studies. He went on to attend Tulane Law School in New Orleans, where he became a managing editor of the Tulane Law Review and a published author in two law journals. He was admitted to the California and New York state bars as well as New York U.S. District Courts, the U.S. Court of Appeals for the 2nd Circuit, and the U.S. Supreme Court.
Helping those in need brought great joy to Trevor. He was recognized for his pro bono work and advocated for the proper treatment of animals. He was also passionate about politics, travel, and religion. He would never pass up a good debate, often to the annoyance of a not so willing participant, and wrote a political opinion column in the Elko Daily Free Press. Trevor was a member of the Catholic church and one of his many memorable trips included a stop at the Vatican where he was part of a group that received a blessing from Pope Francis.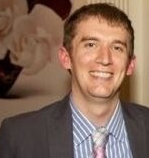 Trevor also loved the film industry. Before entering the legal field, he worked for New Line Cinema, where he helped develop merchandise lines for films, including The Lord of Rings series. His enthusiasm for film was perhaps best demonstrated by his ability to work a movie quote into any conversation. You were either confused by the sheer randomness of it or laughed along with him. It seems only fitting to end with such a quote. "Do not pity the dead. Pity the living, and, above all, those who live without love." Trevor was deeply loved by his family and friends and they hope he is at peace on his next adventure.