Lyon County Commissioner Ken Gray and County Manager Jeff Page met today (September 1, 2021) with officials from the Nevada Department of Transportation to discuss safety concerns on Highway 50. Commissioner Gray requested the meeting after a fatal accident last week.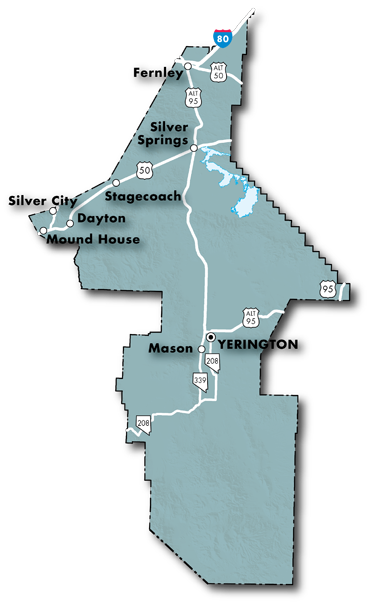 The Nevada Department of Transportation is currently conducting an Operational Study of U.S. 50 in Dayton. County officials requested that NDOT consider implementing a public information campaign and highway signage reminding drivers of the number of crashes, speed limits, and other information to alert the traveling public to pay attention.
Lyon County is committed to partnering with NDOT to develop and implement long-term solutions in an effort to reduce the number of crashes, injuries, and deaths along all State and U.S. Highways in Lyon County.
NDOT explained that the study is not finalized and is excited to work with the County to address current and future traffic safety issues. Lyon County and NDOT will meet in October to review the study and address implementing recommendations from the study.
Lyon County requested that NDOT participate in our Community Development Roundtables when discussing subdivisions and large employee businesses. This would assist the County with understanding NDOTS's vision for traffic safety and enhance the planning of growth and business on the Highway 50 Corridor.
Lyon County recommends that the traveling public:
Not text or use a cell phone when driving
Pay attention to your surroundings and speed
Leave early enough that you are not hurried to get to work
Check road conditions before leaving
Report distracted or dangerous drivers
Lyon County Manager/Emergency Management Director