Nancy Lommori Koehler ~ August 06, 1934 to July 24, 2021 ~
Nancy Koehler passed away at her home in Yerington on Saturday, July 24, 2021.  She was 86.
Nancy was born August 6th, 1934 in Wabuska, Nevada to Luigi & Marianna Lommori. Her family moved to a Ranch at the end of Pearl St where she grew up with her 5 siblings Lenna, Dante, Joe, Jeanette & Mario (Mike).  She married Henry Koehler September 21st, 1952 moving just right up the road and later building their own home on Pearl St where they spent the next 53 years. They had 3 children, Craig Koehler, Kathy Thomas & Donna Glass.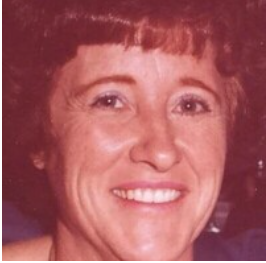 Nancy worked for 30 years at the Lyon County School cafeteria back when most the food was prepared from scratch.  After retiring she went back part time just serving on the line.  She enjoyed keeping in touch with her friends and coworkers.  She enjoyed gardening and cooking meals and snacks for family and any visitors or even strangers that happened to stop in. It was not an option to decline her biscotti or enchiladas but who in their right mind would do that anyway.   All who knew her knew she loved cooking and most of all eating what she prepared.  She was active in St. Anne's Guild where she was most proud of the sale of her famous enchiladas at the annual bazaar and other functions. She enjoyed family gatherings and spending time with grandkids and all family members and friends.  She also enjoyed her resting time after working hard all morning and she could sit down and watch her soap operas with no interruptions.
After the death of her husband Henry in 2014 she moved to her final home with daughter Donna and son-in-law Mike where she had no worries, was close to family and felt safe and secure.
She is survived by her sister Jeanette, 3 children, 9 grandchildren and 4 great grandchildren.
Funeral services will be held August 12th, 2021 at Holy Family Catholic Church, 103 West Street Yerington with a Rosary being recited at 10:30am and Funeral Mass immediately following at 11:00 am.  Family and friends are invited to sign her online guest book at www.FRFH.net
Arrangements are under direction of Freitas Rupracht Funeral Home, 25 Hwy 208 Yerington NV 89447 (775)463-2911.