John Kenneth Stout
September 18, 1955 – July 22, 2021
John "Johnnie" Kenneth Stout, age 65, passed away unexpectedly on Thursday, July 22, 2021, at his residence in Reno, NV.
He was born in San Bernardino, CA, September 18, 1955, to Vonney Turnbow and David Stout. He grew up in Yerington, NV, where he had many friends and old classmates. He partook in the YHS athletics of pole vaulting, running track, and baseball. He was in the U.S. Navy for a short time and was released for a knee injury. He later married and had three beautiful daughters. He was a plumber by trade, mostly in California, before retiring and relocating to Colorado. Later he moved to Reno, NV to be closer to his mother and sister.
He loved to cook, was a devoted fan of the Los Angeles Lakers, Las Vegas Raiders, Oakland A's and a strong member of the Raider Nation. He was a personal commentator for all who had the pleasure of enjoying a game with him. He was well versed in the sporting history of all of his teams. The one and only team that he joked about was the "Forty Whiners."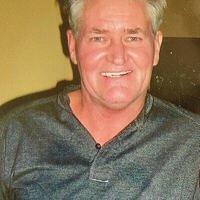 His daughters remember how proud he was of their accomplishments, big or small. His daughter Lindsey aka "Doodles" fondly remembers that he was boisterous, the life of the party, and a fun dad. He had a love for big trucks. They spent time when she was a child dancing around the living room to loud music in front of the mirrors. He was silly and always curious with his phone calls.
Audrey aka "Sweet Pea" remembers that he was always up for an adventure, and never turned down a chance to explore. Their fun trips to feed the ducks, and learning to make duck calls, will remain fond memories, even as she teaches these skills to her daughter today. She loved his consistent enthusiastic sports and weather updates and his passion for his pets (especially birds), friends, family, and religion.
Vonney will miss the evening calls from her son and hearing his laugh. He always had a joke for her.
He was affectionately known to his two nieces as "The Cat Man" due to his love for cats. They have fond memories of learning to draw ducks with their Uncle Johnnie. Johnnie had a love for the great outdoors and always enjoyed hunting, visiting hot springs, deep sea fishing, camping and gardening.
Johnnie never met a stranger. Anywhere he went, he struck up conversation, and always left with new found friends. He firmly believed, and demonstrated, that humor could fix almost every situation. He will be remembered for his charm, wit, and generosity.
He is survived by daughters Lindsey Gucciardo (Dennis) of Washington D.C., Audrey Micca of Quechee, VT, and granddaughter Chloe Micca of Quechee, VT; parents Harold David Stout (Lydia) of San Diego, CA, and Vonney Quilici of Yerington, NV; siblings Marianne Menesini (Jason) of Reno, NV, Sheree Brock (Rick) of Grovetown, GA, Heidi Lucas of Dothan, AL, and Leonard Stout of Las Vegas, NV; nieces Siena Menesini Baden of Reno, NV, and Raquella Menesini Baden or Reno, NV; former spouse, forever friend, Mary Hanson of Elk Grove, CA; fishing buddy Omar Brown; cousin Larry Jacobs of Winnemucca, NV, and many other loving cousins; mothers of his children, Mavis Gold of Beaverton, OR, and Helen Thorgalsen (Bonnie) of Kennebunk, ME. Preceded in death by daughter Melanie Stout, grandfather John Turnbow, grandmother Harriette Turnbow, and great grandmother Norma Pamperin.
A private celebration of life will be held at a later time and place to be determined by family. Those wishing to honor Johnnie's life can make donations for dementia research to the Alzheimer's Association (
www.alz.org
), or to your local Alcoholics Anonymous and Al-Anon chapter.
Family and friends are invited to sign his online guest book at www.FRFH.net
We hope you are at peace and that you watch over us with love.
Arrangements are under the direction of Freitas Rupracht Funeral Home, 25 Hwy 208 Yerington, Nevada 89447 (775) 463-2911