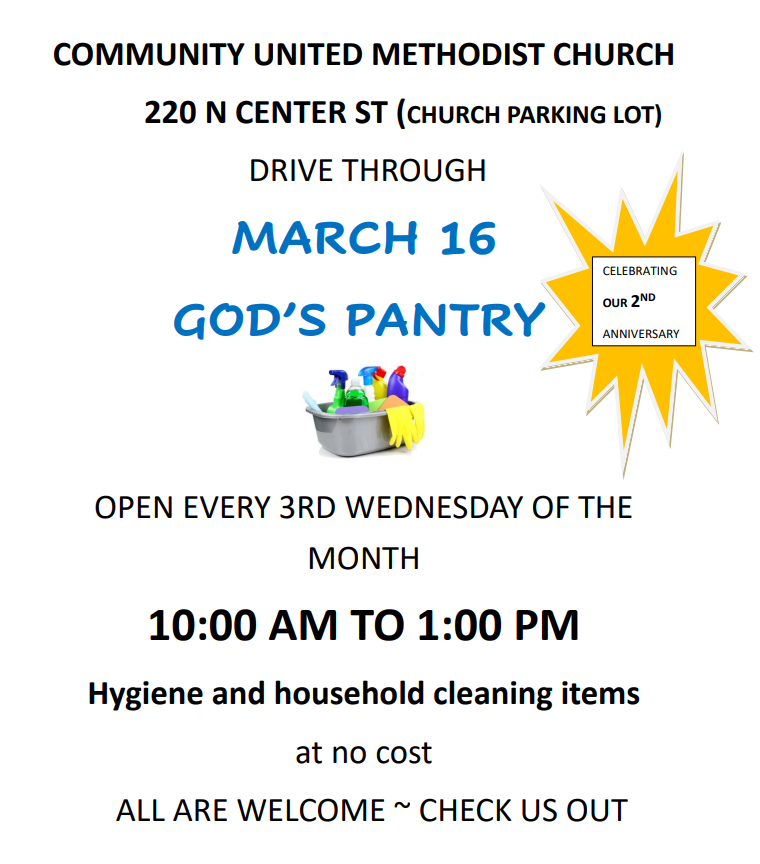 GOD'S PANTRY CELEBRATES 2ND ANNIVERSARY: Next God's Pantry Date:  Wednesday, March 16th
Kristine Beck wrote: "March 16th, 2022 marks the second anniversary of God's Panty based at Community United Methodist Church, Yerington.  Two years ago, the church's desire to spearhead a project that would help the community along with the beginning of the Covid-19 pandemic became GOD'S PANTRY DRIVE-THRU.
Since we couldn't be indoors, we decided to go forward with an outdoor drive-thru. This has turned out to be a very successful format and we have continued it for two years.
Once a month on the third Wednesday of the month God's Pantry offers hygiene and cleaning/household items at no cost. All community folks with a need are welcome, there are no qualifications required.  Participants select 4 items from a long list of products like shampoo, razors, hand soap, toothpaste, denture tablets, dish soap, laundry detergent, paper towels, toilet paper, and many more.
Enter the church parking lot at 220 N. Center Street from 10 AM to 1 PM and place your order.  It will be brought out to your car.
During our first year of operation, God's Pantry identified that there were folks who were unable to leave their homes but still needed our services, so we linked up with Meals on Wheels at the Senior Center to collect orders from their clients then deliver the order after we fill it.
Each month God's Pantry helps 80-100 households with necessary products that aren't available at the Food Pantry or with other assistance programs.  God has blessed this program with continuing donations and funding, and we pray that it will be so for the years to come.  If you are interested in making a donation of product or money you may call the church at 775-463-2174. Leave a message if necessary.  One hundred percent of all donations go to the purchase of products.  What a great way to help our neighbors in need.
Next God's Pantry date:  Wednesday, March 16 10:00 AM to 1:00 PM, 220 N. Center Street, Yerington.  Watch for sign."