At the very young age of 2, Stryder Ross Quintero left this world along with his Grandpa Donnie Quintero in a house fire in the early morning of Saturday, October 28, 2023. Grandpa Donnie heroically ran back in to save Stryder and unfortunately neither survived.
Stryder was born in South Lake Tahoe, California to Brandon Ross Quintero and Spencer Rose McCann. He was welcomed by big brothers Weston Lane Quintero and Stephen Jon Picotte. Stryder Beans was our rainbow baby, he brought so much joy and love into the lives of everyone he encountered. He was our little cowboy, he loved to go work with his Dad and his Grandpa, help feed cows and ride around on the four-wheeler. He loved sitting with Grampa Donnie in the evenings sharing a pop and watch rodeo, bull riding or whatever sports was on television. He loved snuggling with his mommy, adored playing with his brother and baby sister Saylah Georgianna. Stryder was of Northern Paiute, Western Shoshone, Chippewa and Oneida descent.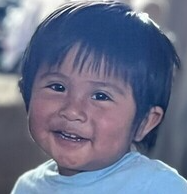 Stryder was survived by his daddy, Brandon and his mommy, Spencer; big brothers Weston and Stephen; baby sister Saylah; grandma Patricia "Trish" Price and Togo (grandpa) Matthew McCann. Great grandmothers Alberta "Cookie" Hicks Quintero and Genevieve "Jenny" McCann Dick. Uncles Slone and Sam McCann; Aunts Shaylor and Sophi McCann and Karmen Quintero. He was preceded in death by his sister Summer Emilia and his great grandparents Harry Price, Georgianna Dixon Price and Douglas Quintero, Sr.
A duel memorial service was held on Sunday, November 5, 2023 in the Schurz Gym and burial at the Schurz Paiute Cemetery. Freitas Rupracht Funeral Home assisted the family with the arrangements.
The family would like to thank everyone for their heartfelt prayers, condolences, kindness and donations during this difficult time. We would also like to thank the Walker River Paiute Tribe for their assistance and support.
Stryder Beans was so pure and loving, the world is so much dimmer now without him.