Mason Valley, Nevada ~ Friday, July 21st, 2023 at 11am: it's a hot, dry day at the Lyon County Fairgrounds in Yerington with the temperature heading toward searing.
Over 10,000 people have gathered to camp in the recently harvested alfalfa fields, to eat, drink, play, dance and attend headlining country-music concerts at the Night in the Country Nevada Music Festival.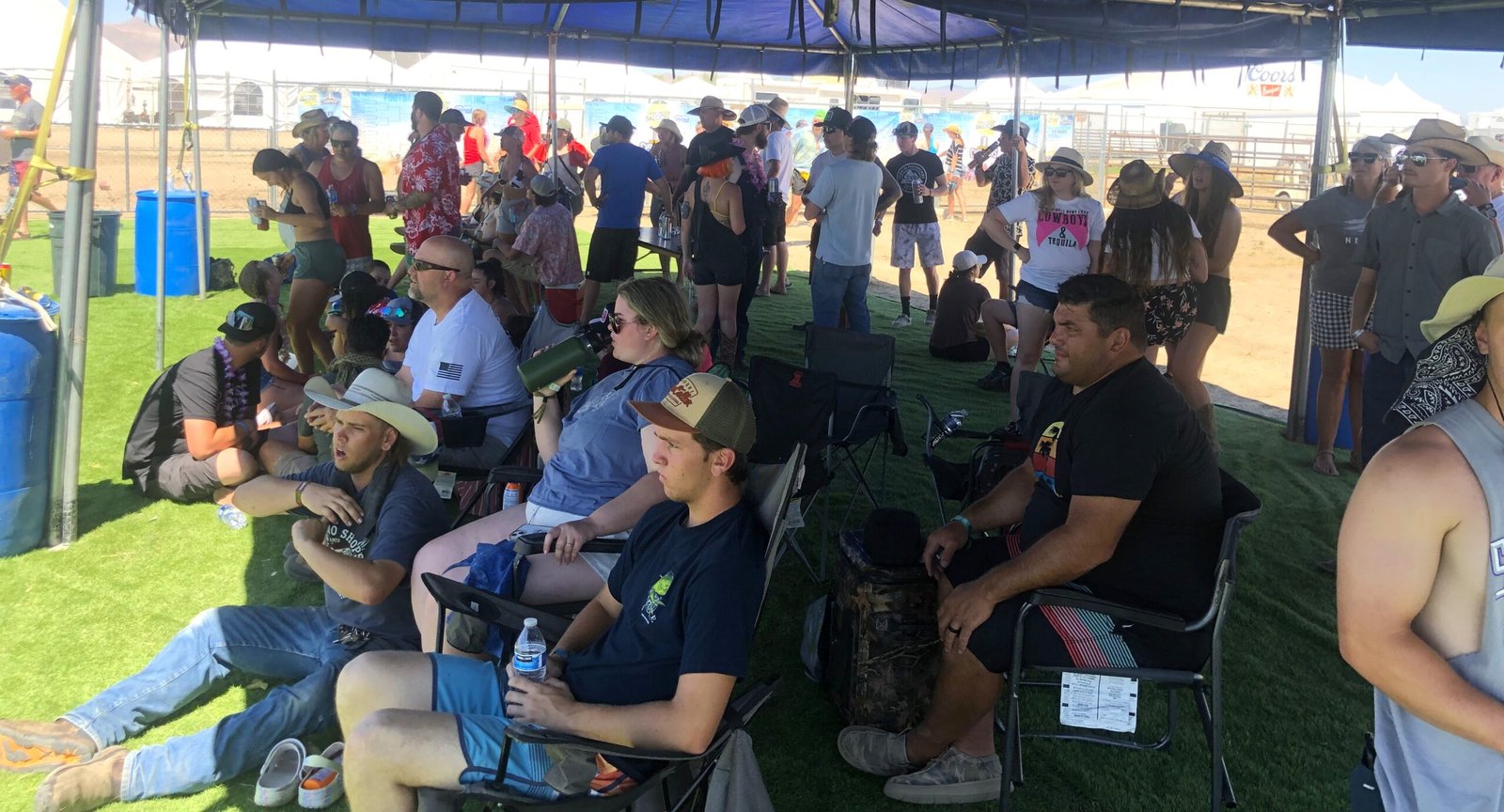 Per Night in the Country Music Festivals and Liquid Blue Events, "Nevada's largest and longest running country music festival is July 20-22, 2023, in Yerington, NV. Night in the Country features three nights of live performances by some of the hottest acts in country music, camping, and one-of-a-kind festival experiences. Now in its 22nd year, the festival supports Boys & Girls Clubs of Mason Valley.
Every year, NITC adds new elements for festivalgoers. New in 2023 is the Stampede Stage, Human Battleship, and 3 events at the Full Moon Saloon including live music.
2023 will be the last year NITC is held at the Lyon County Fairgrounds. In 2024, the festival moves to its new, permanent home in Yerington, NV thanks to the support of the community, Peri & Sons Farms, Western Nevada Supply, the Reviglio family, and more.
The Night in the Country campgrounds sprawl over several acres of farmland and feature Party Zones and Quiet Zones. Campers can take advantage of several services, including pool fills, showers, personal porta potties for their campsite, RV services, trash pick-up, and more.
Night in the Country Nevada couldn't happen without volunteers! Through our Give & Get Program, their donated time and work during the festival allows us to donate to charities across the United States. In 2022, over 400 volunteers donated their time to raise over $75,000 for 27 local non-profits.
In 2024, Night in the Country Nevada moves to its permanent home on a rural piece of farmland in Yerington, Nevada. This move means NITC can start building toward the future and a better festival experience. For the past two decades, NITC Nevada has taken place on land generously donated to us by Peri & Sons Farms and the Reviglio family. Due to the nature of this donated property, each year NITC has had to plan around other potential events, harvest season, and has had to build the festival from the ground up in a matter of days and had to tear it down just as quickly. The stages, CLUB 149, the VIP Tent, the Country Cabanas, the bars, and other key pieces of the festival are all erected from scratch. Power for sound and water for your pool all has to be brought in. Thanks to Peri & Sons Farms and the Reviglio family we now have a permanent place to call home, and that means we can invest in infrastructure and experiences for festivalgoers. That includes streamlining Camp Check-In, creating easier access to the campgrounds, and building new daytime events. With our new home, we are free to build out the property specifically for NITC."
Lily Hayward of Liquid Blue Events provided Pizen Switch Times with a colorful tour of the Friday mid-day activities at NITC. Lily works for Katie Heuberger who is the Public Relations Director for Liquid Blue Events (providing marketing for NITC) and invited Pizen Switch Times to tour the camp and festivities. Lily is also an alumnus of University of Nevada Reno. Readers will see her picture threaded throughout the following photo gallery.
Click on a photo to enlarge and begin gallery of photos from Pizen Switch Times:
More photos and posts are provided from Night in the Country Nevada and can be accessed at:  Facebook ~  https://www.facebook.com/nightinthecountrynv
or online ~  https://nightinthecountrynv.org/