Message of the Week 07/14/2023
With so many events taking place over the last few weeks, and the launch of the Sheriff's App the opportunity to share the Lyon County Sheriff's Office response times did not present themselves. I am attaching the response times through the month of June. As you can see they remain low, and we continue to reduce response times in various areas of the County.
The Lyon County Sheriff's Office is gearing up for the Night in the Country event taking place next week. This event increases the population of Lyon County by 15-20% and consolidates a large population in a small area. This poses a challenge for regional law enforcement, however partnering with the Boys and Girls Club, Yerington Police Department and the Mason Valley Fire Department has reduced the pressure on all of the public safety entities involved. Our operation plan is in place and we are looking forward to a fun and safe event!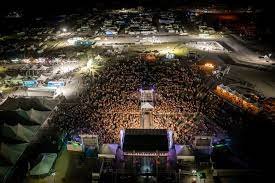 The Lyon County Sheriff's Office is being represented in the Nevada POST (Peace Officers' Standards & Training) Academies by five Deputies. One Deputy is attending the category three corrections academy and four Deputies are attending the category one academy. They will do well and represent the Lyon County Sheriff's Office in a professional manner.
The Lyon County Sheriff's Office added to its charity programs, and events. This summer the Lyon County Sheriff's Office will be handing out backpacks to Lyon County students at the substations. These backpacks are intended for students in K-8. On August 26th the backpacks will be available to be distributed. We were able to purchase approximately 4,000 backpacks, due to the donations of this community.
In an email to the staff of the Lyon County Sheriff's Office, I issued the following statement:
Now that we have reestablished the Sheriff's Office in the communities our mission changes ever so slightly. We need to hold the ground we took, by not reverting to past bad habits, past procedures and past mentalities.
We need to keep looking forward, and expanding on our operations and finding more efficient ways of conducting our business.
There are many facets to our business, but two facets that we need to emphasize right now are; continue be an active part of our community, and continue to put everyone in Jail that we possibly can, through legal means. Those two parts of our business need to exist together and equally. ("put everyone in Jail" that commits an offense worthy of being arrested)
The Lyon County Sheriff's Office employees understand that community involvement and support need to be established and maintained, in order to be effective when aggressively targeting criminal behavior.
Respectfully,
Sheriff Brad Pope