Reno
E
xpl
o
sive
P
op Punk Band, Too Close For Com
fort,
Relea
se
Their First
Album
On Vinyl
in anticipation of 7
state tour
.
By Shaun Astor, Music Production & Photojournalism
The 4 piece band formed in Spring/Summer of 2022, with Tyler Pfeifer on vocals, Ryan Gilpin on guitar, Jimmy Cooper on bass and Evan Dini from Yerington on drums. (Pfeifer and Cooper live in Reno, Gilpin lives in Truckee.)
The members came from a diverse array of backgrounds before forming Too Close For Comfort – Tyler and Jimmy had played together in a metal/deathcore band called Convulsions previously. Ryan also comes from a background of harder music. Gilpin had been passing ideas recorded as demos to Pfeifer, and they got the idea to start a band to bring those ideas to life.
Dini had met Gilpin previously.
"We jammed once with each other with a mutual friend and that was the last time I had talked to Ryan until I got invited to join Too Close For Comfort 7 or 8 years later," Dini said.
Gilpin describes the decision to approach Dini about joining the band: "I told Tyler I knew Evan through another band so I reached out to him and he was in just like that."
Dini's musical background was learning music in 5th and 6th grade with the middle school band, and picking up the drums when he was about 13 or 14.
The first concerts Dini remembers seeing were the first Night In The Country festivals in Yerington, and the first show he ventured out of town for was a bill featuring Rise Against and Rancid – two punk bands – in Reno.
Too Close For Comfort released a full length album called We Only Live Here On This Planet For So Long, which features 8 original songs of blistering pop punk reminiscent of bands like Fall Out Boy. In it you audibly hear a collection of songs put together by musicians who play a fun style of music with the technical abilities of musicians who have honed their chops playing metal.
Their shows often erupt into circle pits and stage diving, as the band aims to mix high energy performances with just having fun.
On August 7th, the band plays their first show of a US tour that will take them across 7 states for a total of 12 shows.
On the tour, Gilpin states, "We just want to tell people to come and to have fun with us. We are so excited to be doing this tour and to be playing in cities we've never played in before."
In January of 2023, the band played a sold out show at the Jeanne Dini Center in Yerington (a venue named for Evan Dini's grandmother). Related to performing in Yerington, Dini says, "We hope to play Yerington again in the near future."
On performing in Yerington again, Gilpin says, "We want it to be special when we come back and to put on a good show. The amount of support from Yerington is insane so we would love to come back!"
The Reno-based record label, Ghost State Records, has just released the band's We Only Live Here… album for sale as a limited edition vinyl record. As vinyl record sales have surpassed that of CDs in recent years, the larger album artwork format offers an opportunity to show off the band's album art and to feature an insert with live photo of the band.
On how being a part of Too Close For Comfort pushes Dini to improve his craft as a musician, he states: "Playing in Too Close For Comfort has pushed me so far out of my comfort zone and made me a better drummer because of that. They took a chance on me when I wasn't really drumming much at the time and I had to very quickly get myself back up to speed with playing in bands again. I had to look back at the artists that inspired me to play in the first place."
Speaking about the upcoming tour, Dini says "I'm excited to meet new people and to play shows again with my best friends. Plus we have some new material that we've been working on and we can't wait to see the reactions to the hard work we've put in."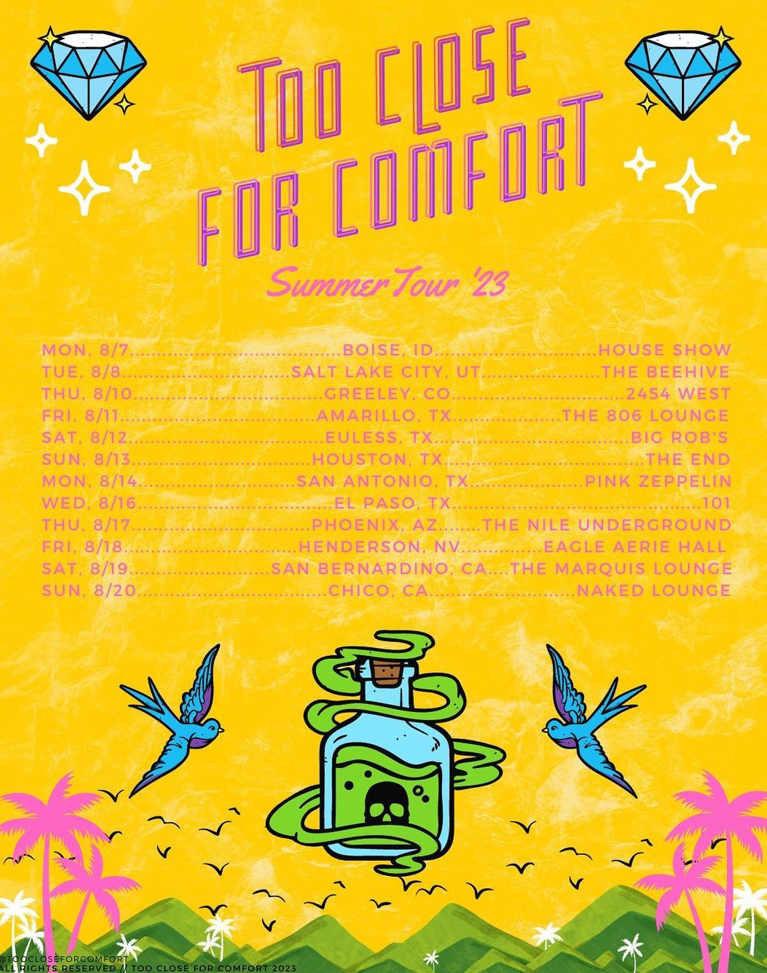 In addition to the August tour and vinyl record release, Too Close For Comfort is currently working on new material. Instagram and Tik Tok users can follow the band for updates at @toocloseforcomfortnv
Their music is available on all streaming platforms or on vinyl at GhostStateRecords.com
Youtube:
[Out of Luck Music Video]
https://youtu.be/H0bETMh4w_4