Message of the Week 02/24/2023
This was a busy week at the Lyon County Sheriff's Office. I would like to take this time to inform the community of several events that took place throughout the week. They include:
– The Lyon County Sheriff's Office received its first donation towards the Junior Deputy Program. Thank you Tony and Andi Greer for your generous contribution.
– K9 Ares received a donation of bullet / stab proof body armor. Thank you for the charitable donation from Vested Interest in K9s, Inc.
– The Lyon County Sheriff's Office as well as a multitude of law enforcement agencies in the region responded to an "active shooter" call at the Moonlight Bunny Ranch. The call was resolved without injury to any law enforcement officers, victims or the suspect. The Lyon County Sheriff's Office is grateful for the response from surrounding agencies, and their assistance in ensuring this call resolved peacefully. We are truly surrounded by professional law enforcement agencies and again I thank them for their response.
– On Tuesday, I spoke at the Fernley Chamber of Commerce breakfast. This group shares a vested interest in Fernley's well-being and public safety. The feedback received regarding the performance of the Lyon County Sheriff's Office was uplifting and I am looking forward to a continued working relationship with this organization.
– On Wednesday we met with Lyon County Executive Staff in reference to the 2023-2024 Lyon County Sheriff's Office budget. The meeting went well, and the Lyon County Sheriff's Office is expected to keep its budget intact with no significant changes. We have had a "healthy" budget that will not preclude the Lyon County Sheriff's Office from providing services to the community.
– The County Manager, Chief Deputy and I met with representatives from Senator Rosen's Office in reference to community project funding. The meeting was productive and may lead to Federal funding for projects throughout Lyon County.
– Another phase of the restructure of the Lyon County Sheriff's Office is complete. Lieutenants Brett Willey and Tyrell Joyner were sworn into their new positions. Bret Willey will be the Administrative Lieutenant and Tyrell Joyner will be the Investigations Lieutenant. Bret Willey scored number 1 in the testing process and Tyrell Joyner scored number 2. The testing was conducted by an outside independent firm.
– Five new Sergeants were sworn in this week as well. Their assignments include the Detention Division, Patrol Division and the Investigations Division.
– The Search for Deon Kincade-Hodson continues. I have spoken to Storey County Sheriff Mike Cullen in reference to the case. Information sharing has been productive, with our Investigations Division communicating with Storey County's. Both agencies are working diligently to locate her.
– We are asking again, for the public's help to find Richard Shifflet who has been missing since October of 2022, we issued another press release.
Many of the bullet points above could be their own "messages of the week". Thank you for taking the time to read this message, I hope this information finds you well and we'll continue to work hard to the community informed.
Respectfully,
Sheriff Brad Pope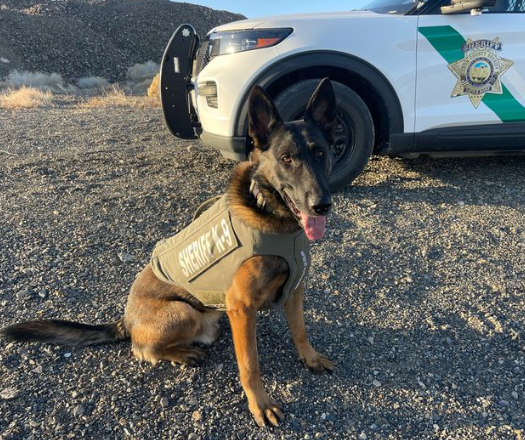 On 02/21/2023 LCSO posted: Lyon County Sheriff's Office K9 Ares has received donation of body armor.
Lyon County Sheriff's Office K9 Ares has received a bullet and stab protective vest thanks to a charitable donation from non-profit organization Vested Interest in K9s, Inc. K9 Lyon's vest was sponsored by a fundraiser hosted by Alaska K9 Center
and embroidered with the sentiment "Gifted by Alaska K9 Center".
Vested Interest in K9s, Inc., established in 2009, is a 501(c)(3) charity whose mission is to provide bullet and stab protective vests and other assistance to dogs of law enforcement and related agencies throughout the United States. This potentially
lifesaving body armor for four-legged K9 officers is U.S. made, custom fitted, and NIJ certified. Since its inception, Vested Interest in K9s, Inc. has provided over 4,970 vests to K9s in all 50 states at a value of $6.9 million, made possible by both private and corporate donations.
The program is open to U.S. dogs that are at least 20 months old and actively employed and certified with law enforcement or related agencies. K9s with expired vests are also eligible to participate. There are an estimated 30,000 law enforcement K9s throughout the United States.
Vested Interest in K9s, Inc. accepts tax-deductible contributions in any amount, while a single donation of $985 will sponsor one vest. Each vest has a value of $1,744-$2,283, weighs an average of 4-5 lb., and comes with a five-year warranty. For more information, or to learn about volunteer opportunities, please call 508-824-6978. Vested Interest in K9s, Inc. provides information, lists events, and accepts donations at
www.vik9s.org
, or you may mail your contribution to P.O. Box 9, East Taunton, MA 02718.