Beginning on Saturday, December 3rd through Saturday, December 10th, 2022…Yerington, Nevada is hosting the 1ST ANNUAL SMALL TOWN CHRISTMAS !
Hosts of the SMALL TOWN CHRISTMAS include the Yerington Chamber of Commerce (and it's many members); the City of Yerington; Studio 42; and Boys & Girls Clubs of Mason Valley.
Plans are still being made, but some highlights of the 8 day SMALL TOWN CHRISTMAS begin with a Winter Wonderland Christmas Dance Extravaganza by Studio 42; Tree Lighting; Bingo & Cookie Decorating; Christmas Wreath Decorating; Ornament Contest; Free Christmas Movie at the Theater; PAWS for Christmas; Vendor Village; Ice Skating Rink at Dini's Lucky Club Parking Lot; Hot Cider/Cocoa Walk; Lacy J Dalton Concert at the Jeanne Dini Theatre for the Arts; Pancake Breakfast; Kris Kringle Kids Krafts; (and more!) ending with the climactic PARADE OF LIGHTS!
YOU are invited and your church, organization, business, family, service club, etc. are ENCOURAGED TO PARTICIPATE!
Here's HOW:
Small Town Christmas Vendor Village Application: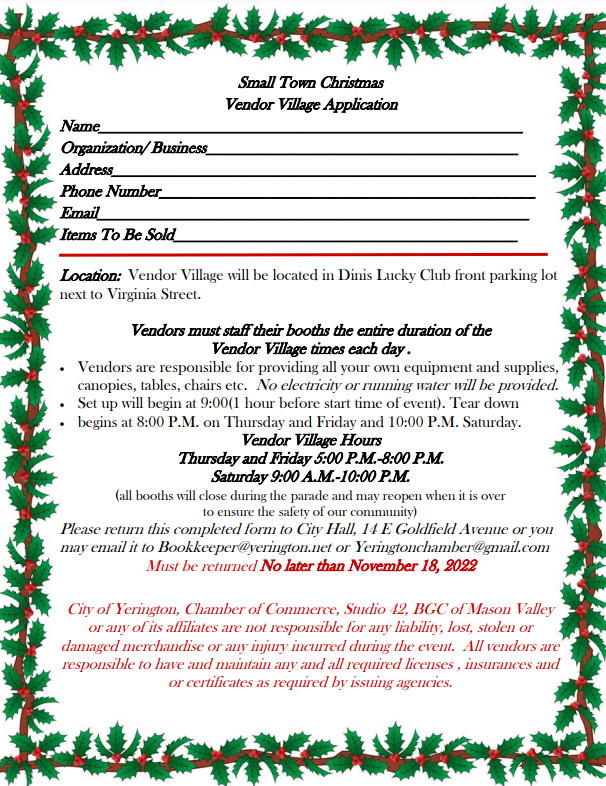 Small Town Christmas Activity Application:
Small Town Christmas Kris Kringle Kids Korner Application:
Small Town Christmas Carolers Invitation:
Storefront Holiday Decorations will line Main Street in Yerington ALL DECEMBER LOOOOONG!
Maps will be available for homes, businesses, ranches, and fields participating in a CHRISTMAS LIGHT FIGHT for most of December!
****Yerington's Small Town Christmas on Main Street USA****