Joseph George Landolt : December 28, 1924 – June 14, 2022
Joseph G. Landolt, 97, of Yerington, Nevada, passed away peacefully on June 14, 2022.
Joseph was born on December 28, 1924, in El Centro, California, to Anton and Katharina Landolt. He graduated from El Centro High School in 1943. While in high school, Joseph was active in Future Farmers of America (FFA). He traveled to the national convention in Kansas City, Kansas, where he was awarded the FFA Star American Farmer. After graduating from high school, Joseph moved, with his family, to Hilmar, California, where they owned and operated a dairy farm business. From 1944-1946, Joseph served in the US Army. He was a World War II veteran stationed in the Philippines.
In 1952, Joseph married Beverly Martin. Joseph continued farming in Hilmar until 1963 when he and Beverly bought a ranch and moved their family to Yerington, Nevada, where Joseph lived until his passing. Joseph loved farming and looked forward to the start of each hay season. Joseph was mechanical and enjoyed inventing things. He held three US patents for farm equipment and tools he had invented. Joseph's favorite hobby was making sausage and curing meats. He discovered an old Swiss family recipe and continually worked on improving it. Each Christmas, Joseph would deliver brown bags filled with his sausages and dried meats to friends, business acquaintances, and family members. Joseph enjoyed this tradition as much as the recipients.
Joseph was a member of Holy Family Catholic Church and was a lifetime member of the Knights of Columbus. Joseph is preceded in death by his parents, loving wife Beverly, sons Joseph Jr., and David Landolt, granddaughter Shannon Landolt, brothers; Anton, Fritz, and Herman Landolt and sister Anne Sigrist. Joseph is survived by his daughters; Karen Lommori (Nat), Mary Harvey (Bruce), and Barbara Landolt (Norman Kamimoto), 9 grandchildren; Jeff Lommori, Jennifer Lommori (Richard Tucker), Stephanie Rice (Randy), Steven Landolt, Kristina Staub (Sam), Steven Harvey, David Harvey, Matthew Kamimoto, and Nicholas Kamimoto, and 6 great-grandchildren; Anthony, Grady, and Brody Lommori, Madison and Jillian Tucker, and Parker Rice.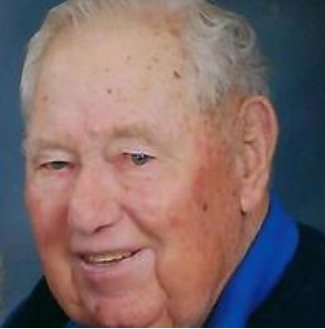 A Rosary for Joseph will be held on Wednesday, June 22, 2022, at 6:00 PM at Holy Family Catholic Church. A Mass of Christian Burial will be held on Thursday, June 23, 2022, at 11:00 AM also at Holy Family Catholic Church, 103 West Street, Yerington, Nevada. Burial will be in the family plot at Valley View Cemetery. Following the service, a Celebration of Life reception will be held in the Catholic Center. Family and friends are invited to sign his online guest book at www.FRFH.net, also sympathy cards may be sent directly to the family from this site. In lieu of flowers, memorial donations may be made in his name to the Walker River Basin Communities Foundation, PO Box 442 Yerington, Nevada 89447.
Arrangements under the direction of Freitas Rupracht Funeral Home, 25 Hwy 208 Yerington, NV 89447 (775) 463-2911