Rolland 'Rollie' Lyons: February 20, 1927 – March 15, 2022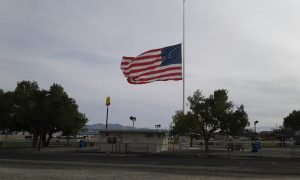 Rolland 'Rollie' Lyons went to be with the Lord in the early morning hours of Tuesday, March 15, 2022 surround by his family at his home in Wellington, Nevada.  He was 95.
Rollie was born in Ute, Iowa on February 20, 1927 the son of John and Helen (Pardee) Lyons.

He was a veteran serving in the United States Navy during World War II and also the Korean War.  He was on the USS Boxer during the signing of the treaty to end the war.  He also served on the USS Curtis.  He was a lifetime member of the VFW Post 3630.
Rollie was an avid fisherman and had gone to Alaska 18 times.
He is survived by his daughters, Rose and Judy and his son Dan; his 12 grandchildren, 21 great grandchildren and 13 great great grandchildren.  He was preceded in death by his wife of 64 years, Della, his son, Gary and Grandson, Eddy.
Rollie's memorial service will be held 2:00 pm, April 9, 2022 at the Smith Valley Baptist Church, 888 Hudson Way Smith.  A reception will follow the service at the church.  His cremains along with his wife's will be placed at the Northern Nevada Veterans Cemetery in Fernley.  Family and friends are invited to sign his online guest book at www.FRFH.net
Arrangements and cremation are under the direction of Freitas Rupracht Funeral Home, 25 Hwy 208 Yerington, NV 89447 (775) 463-2911