Leia Wells, School Resource Coordinator for Healthy Communities Coalition working in the Yerington Elementary School & Yerington Intermediate School spear-headed a shopping trip for the Goodman children whose family experienced a house fire on Christmas Eve.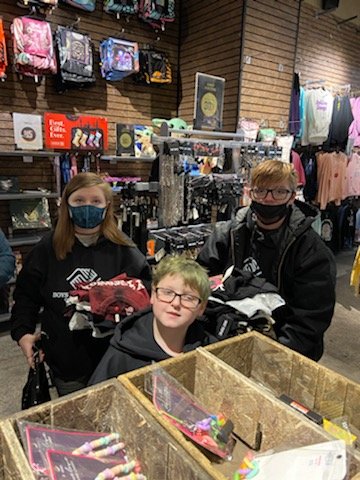 Leia reached out to the For Kids Foundation
https://forkidsfoundation.org/
in Reno whose mission includes "Funding the Urgent Needs of Northern Nevada Children." Leia has worked with For Kids Foundation on behalf of other Northern Nevada children, and in this instance she completed 3 applications for the Goodman children.  The Foundation Board, including their representative Annie, approved the application requests for all 3 children the same day of submission, Monday, for beds, clothing, and personal items.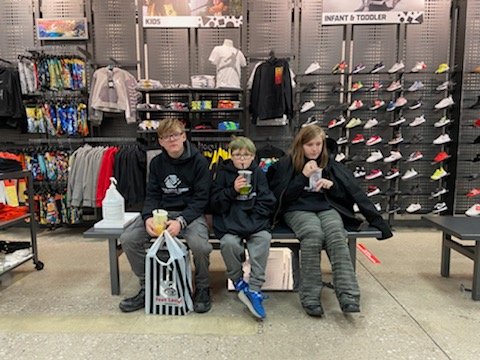 Next,  Leia contacted the the Boys and Girls Clubs of Mason Valley to request use of the Yerington van  to travel to Reno for a shopping trip for the children. Chief Professional Officer Travis Crowder agreed to this immediately and assigned the Director of the Teen Center, Tommy, to drive Leia and the Goodman children to Reno and to assist the children with their shopping needs.
On Wednesday, December 29,  Leia Wells, Tommy Crowder, and the Goodmans headed out to Reno to purchase clothing and essentials. Leia treated everyone to lunch at the Mall. The kids had a great time shopping and picking out their stuff.
Quinn, Stephen, and Adara would like to express that they are very grateful to the entire Yerington Community for the outpouring of kindness and generosity offered to their family.
On Christmas Day they were able to choose Winter coats, backpacks, and school supplies given to them  from the Yerington Cares Clothing Closet.
The Goodman Family extends deepest thanks for donations from the community members far and wide:
Cassandra Beck set up the Go Fund me account which has received so many generous gifts that will help the Goodman family with unanticipated expenses.
Boys and Girls Clubs of Mason Valley ~ fuel, vehicle, driver / chaperone for the children's shopping trip;
Yerington Cares Clothing Closet;
An anonymous donor reached out through the Boys and Girls Club to purchase clothing and a Raley's gift card;
Mason Valley Assembly of God made a special donation for the family;
Mr. Todd Hunt (Yerington High School Counselor) gifted $100 toward the shopping trip;
The Foli Family gifted $250 toward the children's shopping trip;
Dayton Grocery Outlet for a $300 gift card;
When the crew arrived at the Reno Walmart, Walmart donated $200 gift card for the Goodman parents;
Numerous community members from near and far who have contributed household items, services/labor, kindness and encouragement to the Goodman Family. You know who you are: Thank you!
Kira Goodman wrote on Christmas Day: "I want to thank State Farm for helping us and showing us that they are right here with us through this time. Jake from our local office left being with his family tonight and drove back to town to bring my family a gift basket. Thank you Jake and State Farm."
On Tuesday, Kira wrote: "There are so many people in this town and all over that I have never met or spoken to. I want to thank you all for everything during this time. I have never felt more like part of this community than I have the last couple days. Thank you everyone for everything. We are also extremely thankful to family for what they have done to help us also. My parents have opened their homes knowing they didn't have a lot of room and have let us stay with them . We are blessed, for having so many in our lives who care."
And also: "We received some great news , a gentlemen in town is getting us into a rental and we can move in today (Tuesday) so we can be a family again with our children and our (remaining) animals, we are truly blessed."
Leia Wells, Adara, Stephen, and Quinn, chauffeured by Tommy Crowder on a road trip to Reno: