In the afternoon on Christmas Eve, the Goodman family's home burned down in Mason Valley.
While the family (Kira, Chris, and their 3 children ages 10, 15, and 17) were not home at the time, their beloved pets (including sugar gliders and pot belly pig, Lilly) were home and perished in the fire. Kira & Chris's sister-in-law Lisa rushed their dog Ginger to an emergency veterinarian in Carson, but unfortunately Ginger was unable to pull through.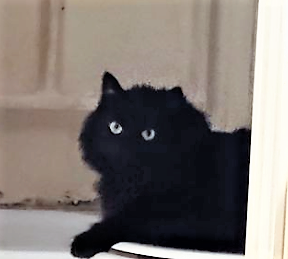 One bright blessing: on Christmas Day, Midge the kitty who had managed to escape, was found wandering in the ruins of the family home, terrified but other wise unharmed.
Family friend & community activist, Cassandra Beck established a Go Fund Me page for the Goodmans and wrote : "Kira and Chris lost their home and their beloved pets on Christmas Eve. They will need everything to provide for themselves and their children. Chris is an Army Veteran, who has recently lost his Mother and Grandmother. Any donation to this family will help. If you have any questions or want to help outside of Go Fund Me, reach out to me. We appreciate our community and thank everyone for helping."
https://www.gofundme.com/f/ue7xp-help-the-goodmans?utm_source=facebook&fbclid=IwAR11lKS9qUUn6L4aLHaxxxYJDc1nZIH7c-nwcx5U-Z–C4j8-uhnEVUpOWA
The Yerington/Mason Valley Fire Department volunteers had just responded to a vehicle collision on 95A East in Poverty Flats when they received the house fire call at the Goodman's home off of 95A North in Penrose Estates.
Community members have been highly responsive through Facebook communications in offering replacement household items for the Goodmans. But with the current local housing crisis, no temporary home has been established yet.
On Christmas Day, Kira wrote: "My mind is so full, there is so much what ifs and, what could have been, going through my mind. I'm so thankful we were not home, or in bed. But then again I wish we were to save our lost ones. My heart hurts and this struggle is hard I have never imagined this would happen. And I would never wish this on anyone. We went to gather anything clothes wise that was salvageable but there was not much that was not burnt or covered in soot. I'm just so drained and my poor kids all they want is normalcy right now, their rooms, their pets. Walking into the house was traumatizing. I just couldn't handle it. I have never seen so much damage so much memories taken away from us. Family pictures, family items just gone".