At the age of 101, William "Bill" Hanson has been laid to rest in the Hanson family plot overlooking Mason Valley with his beloved wife, Phyllis who passed in 2019.
Bill led an extraordinary life. He was born in the town of Mason and worked the family ranch alongside his father and ranch hands, driving cattle and plowing fields. He hunted and fished and in his teens he ran a pack horse operation out of Levitt Meadows into his treasured Sierra Nevada Mountains. Late in his teens he hired a crop duster to teach him to fly which served him well throughout his life. He played the trumpet with local musicians in various Reno nightclubs and played polo. When World War II broke out, he enlisted in the Marines and survived the battle of Iwo Jima.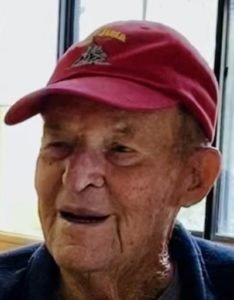 With an amazing intellect, Bill became a self-taught engineer or "tool pusher" as he liked to say. He worked on everything from heavy equipment to generators and if he didn't have the tool he needed, he invented it. Working for Isabell Construction, he managed freeway construction projects such as I-80 through the Truckee River Canyon and established mines in Canada and El Salvador. Bill worked for Bill Harrah restoring vehicles for the Automobile Collection and enjoyed "Horseless Carriage" trips with his first wife, Fern. He bought Reno Air Service and operated it as an automotive machine shop and late in life enjoyed working for Nevada Energy Systems.
He and Phyllis were married in their 60's and lived their years together to the fullest spending summers driving to Alaska and winters to Mexico, camping, hunting and fishing, laughing and enjoying dear friends. Bill is survived by his son Alan Hanson, granddaughter Adrian Hill, great-grandsons AJ and Junior, step-daughter Heidi and her husband Chris Evans.
Posted online on November 19, 2021
Freitas Rupracht Yerington
Published in Reno Gazette-Journal