Carson City Health and Human Services issued the Covid -19 Surveillance Report for Lyon County on November 4, 2021.
Lyon County Surveillance Summary:
From October 17 – October 30, 2021, there were
191
confirmed cases reported in Lyon County. This represents approximately thirty-six percent of all Quad-County cases during this two-week period. This is a three percent increase from the previous two-week period. The zip code in Lyon County that reported the highest number of cases during this two-week period was zip code 89408.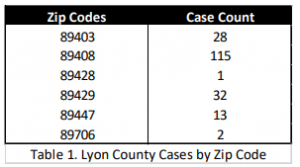 The daily cases reported, based on a seven-day average, over this two-week period was sixteen. This indicates that, on average, there have been sixteen new cases each day throughout Lyon County. Lyon County is seeing an increase in the average number of cases reported each week . Forty-seven percent of cases were female, and fifty-three percent were male. The average age of Lyon County cases was forty years old.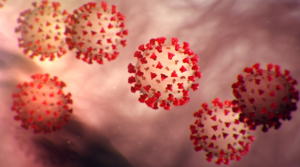 There were six student cases from October 17 – October 30, 2021. Of these student cases, eighty-three percent attended school while infectious. Additionally, there were three school faculty members that tested positive for COVID-19 and attended school while infectious.
Of those with known exposures, fifty-four percent were exposed in the community and thirty-seven percent of cases were exposed to someone in their household who tested positive. The graph shows more information on Lyon County exposures (Graph 5). Just as above, exposure questions are independent, meaning an individual can answer "yes" to more than one exposure type.
CCHHS's COVID-19 Epidemiologist is working closely with the state and the facilities to track the transmission and ensure mitigation efforts are in place. Transmission trends are challenging to track or predict.
According to the Nevada State COVID-19 Dashboard, approximately forty-five percent of Lyon County residents are fully vaccinated as of October 27, 2021. Carson City Health and Human Services continue to work with community stakeholders on vaccination outreach to increase vaccination rates among the community.
Lyon County Breakthrough Cases
Lyon County represents thirty-one percent of the total known breakthrough cases from the Quad County region reported since February 1, 2021. The overall vaccinated case rate for Carson City is 1,335 per 100k population compared to the overall unvaccinated case rate of 11,006 per 100k population. COVID-19 vaccines continue to be highly effective at protecting people against severe illness and death. Getting vaccinated is still the best way to slow the spread of COVID-19.