Irene Lucile (Faber) Hathaway passed away peacefully in Roseburg, Oregon, on Oct. 19 with family at her side. She was born Jan. 30, 1921, on the family ranch in Wabuska, Nevada. She was the fourth of seven children born to Joseph and Teresa Faber. She was just over three months shy of reaching her 101st birthday. She graduated from Yerington High School in 1939.
After graduating, she stayed in Yerington working as a cook at the Brooks Hotel for twenty-five cents an hour plus room and board, and later worked for the postal service, all while helping at the ranch when needed. In 1943 she moved to Sacramento, California, and worked at McClellan AFB.
She eventually made her way to San Diego where she not only took flying lessons, but met her husband Paul Hathaway, who was on shore leave from the Navy. She and Paul married in Yuma, Arizona, on Aug. 18, 1951. After Paul retired from the Navy, they bought a motel in Clear Lake, California, and later bought and renovated a bar in Meridian on the Sacramento River.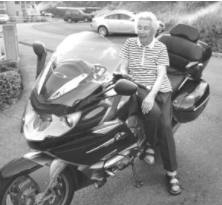 While in Meridian, Paul made a houseboat and he and Irene took out fishing parties. Disney Studios rented the boat and used it in the filming of "Tom Sawyer." Paul retired after thirty years in the Navy, and they moved to Sutherlin, Oregon. Paul passed away in 2009.
Irene stayed in Sutherlin until 2014 when she moved to Linus Oaks, a retirement community in Roseburg, Oregon. Irene led quite an active life; she was an avid golfer, played bridge, and made many trips to California and Nevada to visit her family. She had many lifelong friends and a loving family.
Preceding her in death were brothers Norman (Pat) Faber, Ted (Elsie) Faber, and Don (Maureen) Faber; as well as sisters Dorothy (Bill) Perry, Mardel (Perry) Perry-Smith, and Virginia (Hartzel) Waymire; niece Kathy Porterfield and nephew Jim Waymire; surviving nieces and nephews include Gary (Joanne) Faber, Dane (Sherrie) Faber, Karen Mason, Judy Campbell, Dick (Cathleen) Faber, Susan (Bob) Dominic, Nancy Price, Jack (Debbie) Waymire, Susan Driskill, Peggy (Dave) Stewart, Patty Perry, Robert (Sue) Perry-Smith, and Tom Perry-Smith.
From The News-Review in Douglas County, Oregon.