A graveside ceremony will be held on Monday, September 27th at 1p.m. at the Yerington Cemetery to celebrate the life of Mr. John Harris, a longtime resident of Mason and Yerington, Nevada. Everyone is encouraged to come and attend the service on Monday at 1p.m. at the cemetery.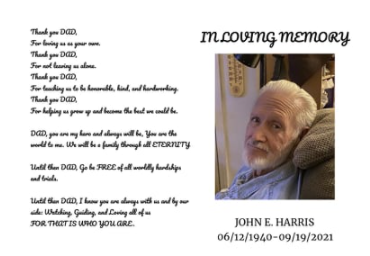 John moved to Idaho about four years ago to live with his daughter, Joni, who was at his side when he passed away on September 19th at the age of 81.
John met and married his sweetheart, Richelle, and began his life as a dad at 18 years old. Together, John and Richelle raised 8 children: Michael Harris, Erin Evans, Sandra Harris Baumback, John Harris Jr, Shannon Harris, Joni Walker, Mark Harris, Crystal Harris Jackson. They had 25 grandchildren and 32 great-grandchildren.
John is survived by adult children Joni Walker in Idaho; Crystal Jackson and Sandra Harris Baumback of Yerington; Mark Harris in Douglas County, Nevada; Michael Harris in Carson City, Nevada, and family far and wide.
John owned several businesses throughout his life in Yerington. His pride and joy was his Mechanic Shop in Mason. Some Mason Valley residents may remember John and Richelle's store: J & R Grocery and Auto Repair.
John loved fishing, hunting, and riding motorcycles. He loved his work as a mechanic, and helping others who needed it.
John's CB Handle: OLD-GRAND-DAD.