***Update***09/03/2021 Due to the recent surge in the Coronavirus in the area, the Yerington Rotary Club and their partner PEO Sisterhood have decided to postpone the scheduled Boots, Buckles & Bling dinner/dance/auction scheduled for Saturday, September 25 to next Spring. The decision was made in the interest of both service clubs after consulting with medical professionals.
Boots, Buckles & Bling will return on March 12, 2022 in conjunction with the Snyder Bull Sale. The Boys and Girls Clubs of Mason Valley facility has already been secured for that date.
People who have already purchased tickets will be contacted to see if they want a refund or to carry the tickets over to our March date.
Raffle tickets remain on sale and the drawing will be held on the original September 25 date.
08/12/2021: The Yerington Rotary Service Club and the Yerington PEO Philanthropic Educational Organization are sponsoring "Boots Buckles and Bling" at the Lyon County Fair Grounds on September 25th.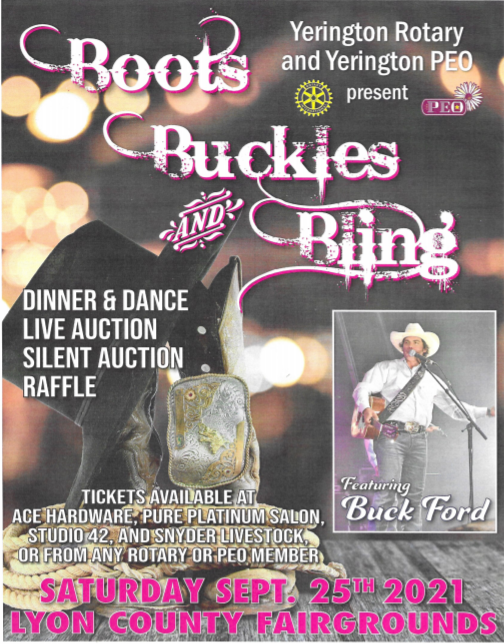 Those attending can look forward to dining, dancing, socializing, and partaking in a live auction, silent auction, and raffle.
According to thebash.com:  "30 YEAR OLD BUCK FORD IS A SINGING AND RECORDING COUNTRY MUSIC SENSATION!!!! Nashville recording artist Buck Ford focuses on keeping that authentic country sound mixed in with his modern style edginess. Bucks influences consist of George Strait, Merle Haggard, George Jones and Keith Whiteley, just to name a few.
Buck and his band pride themselves on the fact that their performances "bring back to life" a modern sound with a touch and feel of real authentic country roots. Bio: Buck is now 30 with a wife and two boys. Buck began his story as a professional motocross racer, riding the circuit for over a decade. He received a full ride endorsement with a Honda team through the West Coast Super Cross Series in 2009. He placed his riding career on hold to pursue his love and passion for country music. Despite his dedication and talent in the professional motocross scene, his heart has always been in country music.
Buck is now headlining his own shows playing his own music. Buck however still gets out throws a variety show performance including his own written and composed music as well as cover songs that everyone loves from greats such as the likes of George Strait, Merle Haggard, George Jones, Keith Whitley, Daryle Singletary, Joe Diffie, Mark Chesnutt, Tracy Lawrence, Brooks and Dunn, Alan Jackson, Waylon Jennings, Garth Brooks and many more.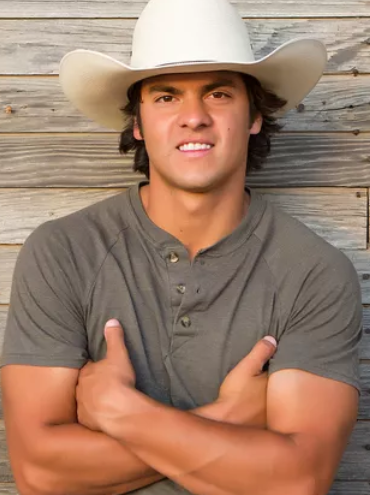 Buck has been successfully playing for over 10 years, and played with other fine musicians, such as The Time Jumpers, Vince Gill, Dawn Sears, Wade Hayes, James Mitchell, Mike Johnson, Brent Mason, Paul Franklin, Kevin Grant, Lonnie Wilson, Larry Franklin, and many other talented musicians throughout the West Coast, South West and Nashville regions. Buck has performed from major stage concert venues to fairs, festivals, rodeos, clubs, many private events, weddings, and parties. He has also had the pleasure of opening for Jason Micheal Carrol, Daryle Singletary, Steve Azar, Easton Corbin, Justin Moore, Chris Young, Steel Magnolias, Ty Herdon, Cody Johnson, John Michael Montgomery, Aaron Tippin, Jon Pardi, Arron Watson, Clint Black, Wade Hayes, Dustin Lynch and many times with Mark Chestnut.
Buck has been able to combine the creative heart of country music with his values learned from his motocross endeavors, of dedication, discipline and perseverance. He has the strong professional work ethic to back up his notable vocal talent. He exudes the charisma that audiences, both young and old, appreciate and relate well to; people seem to like Buck, a kid from today's generation, singing and paying respect to the values of the good ole days, making him a "one of a kind anomaly." He's a favorite everywhere he goes and a sure bet for any venue. Music. Buck has finished his 5th Nashville album in 2021 scheduled for full release fall of 2021. Titled "I'm Gettin' There" be on the lookout for that oct 2021. Buck's 4th Album Released December 2016 Titled "Where I Wanna Be" His 3rd Album titled "Something Bout Those Cowgirls" was released in 2014. His 2nd Album titled "Country Never Goes Outta Style" was released in June of 2012. His 1st Album "For Now", was recorded in Nashville and was released in Oct 2010. (all of those CDs are available on itunes, buckford.com or cdbaby.com) or on all digital platforms. Buck is currently playing pure country music all over the United States and internationally with his band. Contact info For more information, you can reach him at: info@buckford.com To book performances, contact (707) 580-0049″