Nancy Park who resides at Mason Valley's River Split  Ranch is spearheading the 1st annual "Yerington's Nights" as a series of Saturday Night  Movies in August to be held at Veterans Park located on the corner of Oregon Street and Nevin Way.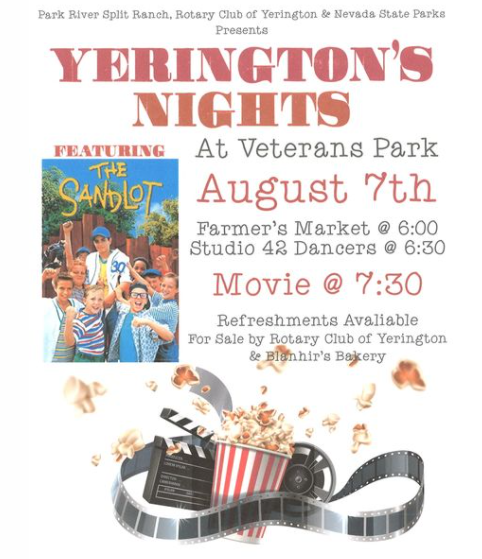 Nancy reports that as she researched the ins and outs of how to start this event, she discovered many locals who loved this  idea and wanted to be a part of it:
The Rotary Club of Yerington offered to help with event insurance and food.  Tim Scott of the Rotary Club attended the Yerington City Council meeting with Nancy to offer support.  State of Nevada Park Rangers, Randy Denter and Rett Smith offered the use of their projector/sound system.
At 6pm before movie time on August 7th, 14th, and 28th, the Rotarians will be selling  hot dogs and drinks. Blanhir's  Bakery will be selling desserts. Vendors offering their wares from the Giorgi's  Farmers Market.
At 6:30pm, Nancy has arranged for local talent to entertain the audience:  Saturday August 7th features Cathe Faretto's talented Studio 42 Dancers followed by "the Sandlot" at 7:30pm.
On Saturday August 14th the Tang Soo Do Karate Center plans  to deliver a well-rehearsed demonstration at 6:30pm followed by the movie "Eddie the Eagle" at 7:30pm.
No movie will be shown on August 21st due to the scheduled Lyon County Fair and Rodeo.
The final movie in August "Gifted" will be shown on Saturday August 28th at 7:30pm , with pre-show talent to be announced.
Bring your lawn chairs, beach blankets, and mosquito spray! (But leave alcoholic beverages at home, please.)
Nancy Park  purchased movie licensing rights so that she can legally share the showing of these films with the community for the August 7th, 14th, and 28th.
Nancy writes, "I'm from Douglas County and The Town of Gardnerville has been showing movies in the park for years, maybe 20  years. We purchased the River Split Ranch in 2004 and we love Yerington. I brought the idea of movies in park from Gardnerville.  This is such a sweet town with lovely people and thought our small town would welcome this event."
There is no cost to view movies at Yerington's Nights.
Contact Event Organizer Nancy Park for more information, questions, or participant queries at 775-790-2765.
~Leah Moore Wilkinson