David Olwin Smith passed away unexpectedly on Monday June 28, 2021 at the age of 57.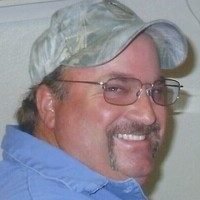 David was born in Yerington on November 3, 1963 to William and Janice (Sheldon) Smith. He was the youngest of 5 children. David graduated from Yerington High School in 1982 then attended Universal Technical Institute in Phoenix, AZ where he obtained his mechanic certifications. Upon returning to Yerington, David married Lisa Menesini. David and Lisa had three children: Jessica, Garey, and Angela.
At a young age, David's Papa, a gunsmith, introduced him to what became his lifelong passion of learning about firearms and how to reload his own ammunition. The thing he treasured the most
though, was practicing his marksmanship. Any shop talk with David eventually lead into firearm conversations inevitably followed by field practice. His love of outdoors expanded to camping,
Jeeping, hunting, fishing, and working in his yard. During the winter months, David perfected his skills in making his one-of-a-kind knives.
David retired from his professional mechanic career after 23 years with the Lyon County School District in January, but he was always the family mechanic and had projects of his own. David restored
and modified his Jeep to his standards then tested out his work by exploring in the mountains.
David is preceded in death by his father, William and infant brother, Owen. David is survived by his wife of 35 years, Lisa; children Jessica (Jesse), Garey (Jesslyna), and Angela (Michael); grandchildren
Payton, Jaxson, Adalynn, Jameson, Blakely, and grandpuppy Marleau; mother, Janice; brothers Grant (Julie) and Kevin (Shawna); sister Leslie; and nieces & nephews.
A Celebration of Life service will be held on Friday July 9th from 11:00am to 2:00pm at the Pioneer Convention Center in Yerington, NV. 
Family and friends are invited to sign his online guest book at www.FRFH.net
Arrangements and cremation are under the direction of Freitas Rupracht Funeral Home, 25 Hwy 208 Yerington, Nevada 89447 (775) 463-2911