Scott Lommori wrote this post on Facebook, June 6, 2021:
If you were to look up the words caring, loving, compassionate and legendary and then look up the words strong, motivating, inspirational, reliable and aspiring and tried to tie those words to one person that one person would be our one and only Yerington Native Mr. Mike Lommori. This man has touched the lives of so many people that at times, I feel his existence is something more than human. His dedication and determination to help people was paramount and very often I hear people say how Mike helped inspire them to be the best they could be. I also hear people say he is one of a kind and someone you can really count on to be there for you. I have witnessed first hand his ability to motivate both the willing and the unwilling and in the end have both believing he had their best interests at heart. As a father, he was always there for his children. As a brother, he was always willing to help out and created an environment that family enjoyed. As an athlete, he was a fierce competitor and had a determination to succeed that resonated throughout his body. As a neighbor, he was willing to listen and encourage and provide help to whomever needed. As an educator, he demanded that you listen and learned in his class and always believed all students would succeed. As a coach, he was one of the best at pushing athletes to a level that was just a little higher than where they thought they could reach. I remember one time someone wrote "As the coach entered the room after a loss we all knew we had let down our coach and we all knew we should have tried just a little harder. We knew that coach was going to be very upset with us because this loss was one that moved us out contentions for going to state. We all knew, but when coach entered the locker room he told us he was very proud of us and that in the end the lesson we learned on that field tonight and the lesson we learned this season are all things we will need to be successful in our marriages, jobs and relationships with others." I, myself, was fortunate to be able to call Mr. Mike Lommori Uncle, Coach, confidante, inspirationalist and a mentor. In my life, I have had many great people who have inspired me but most didn't have the impact this man had on me and so many others. He will be dearly missed by all who had the fortune to know him.
As I close, I would like everyone to know his service will be Friday, June 11th at 11:00 A.M. in the Yerington Old Gym at 114 Pearl Street Yerington Nevada. Rosary will be held at the Catholic Church Thursday, June 10th at 6:00 p.m.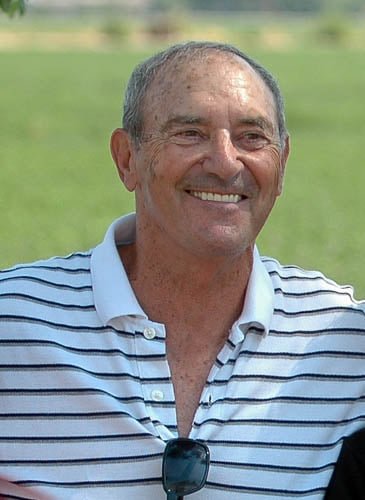 NSN Nevada Sports Net:
'Mr. Yerington:' A community remembers legendary coach Mike Lommori
https://nevadasportsnet.com/sports/high-school-football/mr-yerington-a-community-remembers-legendary-coach-mike-lommori?fbclid=IwAR05POeWX7HOIrl0yvOGQJZ6_JIKGpPPev_ZJ12J0yXrRrhAKHq9I1Scv7U