It is with heavy hearts that we share the passing of Diana Lee Smith on July 25, 2023. Diana, age 67, was surrounded by her beloved children and family. As a devoted mother, sister, grandmother, and friend, her vibrant spirit touched the lives of all who knew her.
Diana's life was a beautifully woven tapestry, with each thread representing a different chapter of her journey. Just as a tapestry tells a story through its intricate patterns and colors, Diana's life was filled with diverse experiences and passions that shaped her into the remarkable person she was.
Diana was born on September 16, 1955, to Charles and Shirley Hutchison in West Covina, CA. She graduated from Edgewood High School in 1973, before going on to earn a Bachelor's degree in Animal Science from Fresno State University. She excelled in school, but she lived for the summers spent atop her first horse, Kadee. Exploring the rolling hills of her grandparent's ranch in Mariposa, CA, spun the fibers that became some of the longest running threads of her life's tapestry. While attending college, she continued to escape the city for weekend getaways to the ranch, roaring up the road in her little Datsun pickup. She spent summer breaks working in Yosemite as a park ranger, and leading trail rides as a wrangler through the Tetons from a guest ranch in Jackson Hole, Wyoming. Her admiration and affection for horses grew stronger as they became more prominent in her life. She rode them on camping trips, used them for day-to-day work on the ranch, competed in cuttings, and thoroughly enjoyed training young horses. She also performed in numerous events throughout the state with her equestrian drill team.
Diana became a resident of Mason Valley in 1983. As her family grew, she spent more time nurturing her children's interests at junior rodeos, dance classes, countless soccer games, high school rodeos, 4-H, and every other endeavor that they wanted to pursue. Her involvement in their various activities became the vibrant threads that symbolized her unwavering support and devotion. She instilled the value of hard work and family connectedness in her children and grandchildren.
Shortly after moving to Mason Valley, Diana began weaving another prominent thread in her life's tapestry. Raising cattle was more than just a business for her, it was her passion. She devoted decades to maintaining and improving the herd. Many of the animals that she raised were given names, and their lineage was committed to memory, symbolizing her commitment and connection to them. Occasionally, a calf born during frigid temperatures got to spend its first night curled up under the warmth of a wood stove in the house. Diana's devotion to animals reached far beyond her own. She shared her knowledge and skills to help friends and neighbors care for their animals, day or night.
Just as a tapestry showcases an artist's creativity and talent, Diana's artistic prowess was displayed through her own award-winning photography, artwork, and leathercraft – there wasn't a parade theme or school project too big or too small. These vibrant threads added a touch of color and beauty to her life, capturing the essence of her creativity and leaving a lasting impression on those who beheld her work.
Diana's life was a tapestry of love, dedication, creativity, and family, interwoven with vibrant threads that will forever be cherished and remembered.
Diana's legacy lives on through her family members. Like the threads of a tapestry that connect and intertwine; her siblings, children, and grandchildren form a tight-knit bond that carry her spirit forward, honoring the love and impact she had on their lives. Her memory will forever be cherished by those who knew her, and the legacy she leaves behind will continue to inspire and touch the lives of others.
Diana is survived by her sister Karen Wilson of Winchester, CA, brother, Kenneth Hutchison of Yerington, NV, sons Trevor Smith of Justin, TX, Brandon Smith (Kendra) of Reno, NV, Tyler Smith (Mallory) of Yerington, NV, daughter Kendra Wolf (Jake) of Reno, NV, and grandchildren Chance & Ronan (Brandon & Kendra), and Sterling and McKenna (Tyler & Mallory).
In lieu of flowers, the family kindly requests that donations continue to be made to St. Jude Children's Hospital, to honor her memory and generous spirit, as she was a monthly donor.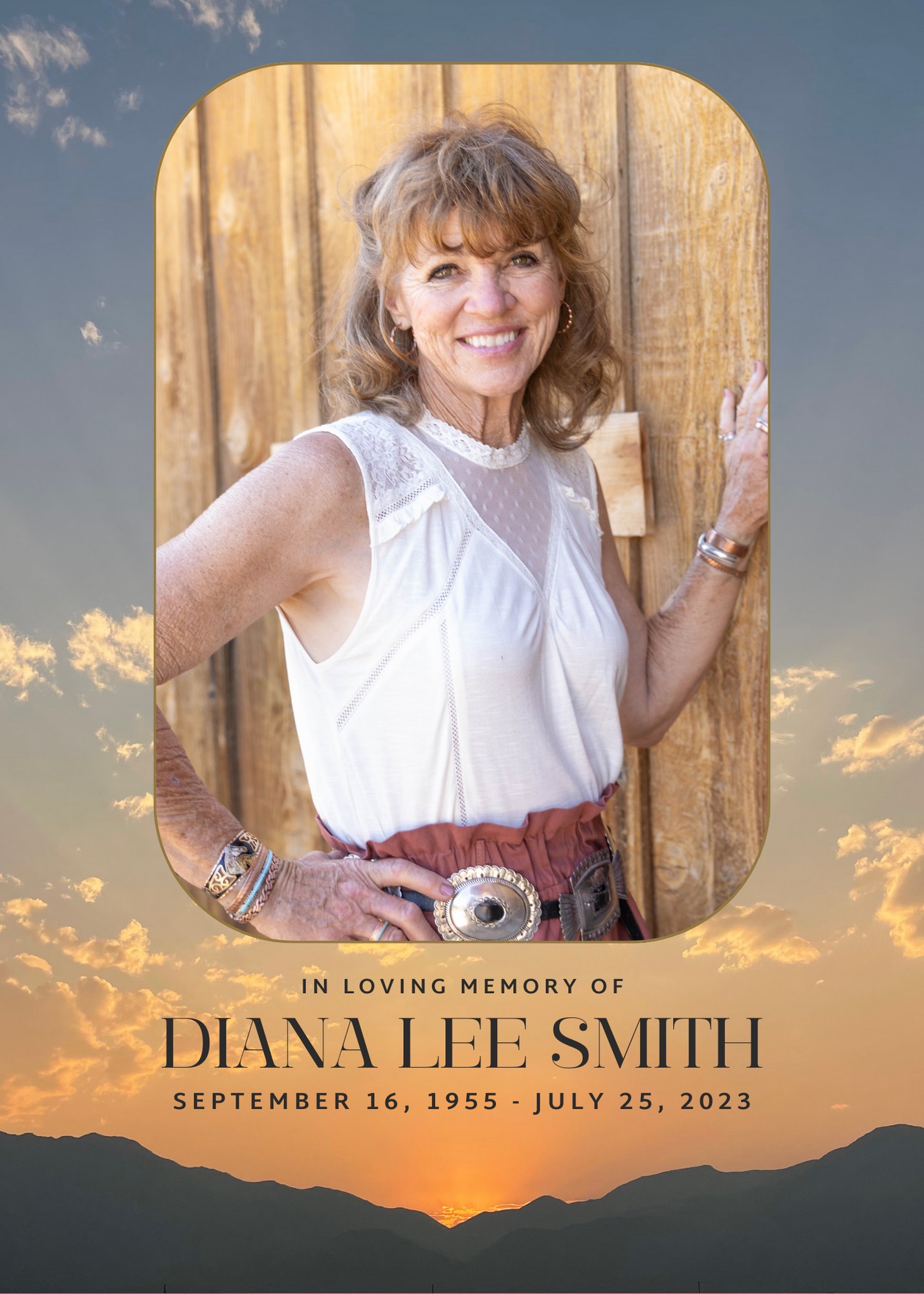 Celebration details:
We would like to express our heartfelt gratitude for the overwhelming support we have received during this heartbreaking journey. Your presence, words of comfort, and acts of generosity have meant the world to us. We are deeply grateful for each and every person who loved our mom, and has shown us such incredible kindness during this difficult time. We are truly blessed to be surrounded by such amazing individuals, and we cannot thank you enough for your thoughtfulness. Your gestures of love and support have touched our hearts, and have reminded us of the impact she had, not only on her family, but also on those around her. We are beyond grateful for the heartfelt condolences, the comforting messages, and seeing the beautiful tributes that have been shared in honor of our mom. We are eternally grateful for your presence in our lives, and we will always hold a special place in our hearts for each and every one of you.
We extend an open invitation for you to come by during the afternoon to pay your respects and share your memories. Join us on Saturday, September 16th at the Smith Family Ranch. We welcome early drop-ins and arrivals starting at 2:00pm.
All are invited to stay for a potluck meal beginning around 4:30pm as we bid our mom a sunset farewell. Feel free to bring a dish to share with friends. We have broken it down by last name to help spread the options. Your presence and support would mean the world to us as we come together to celebrate the life and love our mom shared with all of us.
If possible, we kindly request that you bring your own folding chairs to the event. This will help us ensure that there are enough seats for everyone. Thank you for your understanding and cooperation.
If you have any questions or need further information, please don't hesitate to reach out. We hope to see you there as we remember and honor our beloved mom on her special day.
Last names, suggested but not mandatory:
A-G appetizer
H-P main or side dish
Q-Z dessert
'Out-of-staters' – we are just glad you could make it