Nicolas Demetrio Hernandez Real was born on December 3, 1936 and passed peacefully in his sleep on August 16, 2023. He was born in Queretaro, Mexico, and immigrated to San Fernando, California with his wife Guadalupe in 1973. Together they raised five children: Nicolas Jr., Genoveva, Enrique, Julian, and Rodolfo. From them came 11 grandchildren, followed by eight great-grandchildren. Nicolas loved his family more than anything, reminding them constantly that, "la familia es todo." Nicolas loved his son Nicolas Jr. unconditionally; in him he found his closest and truest friend. He served as his primary caregiver for over fifty-five years. Nicolas Jr. was his greatest purpose, and he loved and cared for him until his last moments.
Nicolas taught his children the value of hard work. He was a tireless worker, spending most of his life working in the construction trade. While there, he perfected the art of masonry. Many of his years were spent teaching his sons his craft, with most of them following in his footsteps. Much of his work can be seen at his home in Yerington, and will serve as a reminder to all his family of how much he enjoyed working with his hands and of his artistic talents. He will be missed by all who knew him. Te queremos mucho abuelito.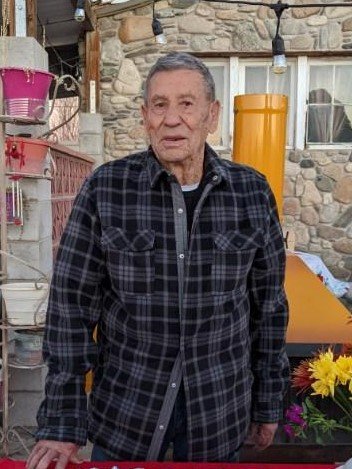 Nicolás Demetrio Hernández Real nació el 3 de diciembre de 1936 y falleció pacíficamente el 16 de agosto de 2023. Nació en Querétaro, México, y emigró a San Fernando, California con su esposa Guadalupe en 1973. Juntos criaron cinco hijos. : Nicolás Jr., Genoveva, Enrique, Julián y Rodolfo. De ellos surgieron 11 nietos, seguidos de ocho bisnietos. Nicolás amaba a su familia más que a nada y les recordaba constantemente que "la familia es todo". Nicolás amaba incondicionalmente a su hijo Nicolás Jr.; en él encontró a su amigo más cercano y verdadero. Fue su cuidador principal durante más de cincuenta y cinco años. Nicolás Jr. fue su mayor propósito, y lo amó y cuidó hasta sus últimos momentos.
Nicolás enseñó a sus hijos el valor del trabajo duro. Fue un trabajador incansable y pasó la mayor parte de su vida trabajando en el sector de la construcción. Mientras estuvo allí, perfeccionó el arte de la albañilería. Pasó muchos de sus años enseñando su oficio a sus hijos, y la mayoría de ellos siguieron sus pasos. Gran parte de su trabajo se puede ver en su casa de Yerington y servirá como recordatorio para toda su familia de lo mucho que disfrutaba trabajando con sus manos y de su talento artístico. Él será extrañado por todos los que lo conocieron. Te queremos mucho abuelito.