June 24, 2023 in Yerington NV  ~  A pleasant Saturday evening under shaded tables on the lawn in front of the Jeanne Dini Theatre was the  setting for the Hope Roundup 2023.  The Program offered a BBQ Beef Tri-Tip & Chicken dinner with all the fixings,  music & dancing to the Steven Denmark Band AND Ronnie & the Redwoods, a raffle and a silent auction…all to benefit the Equine Therapy Program at Sierra Sage Treatment Center.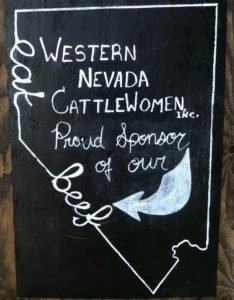 Beka Graham, Sierra Sage Program Director introduced Cecilia Smith, who, with supportive staff, leads the horse program (CHA Certified Horsemen's Association) for Sierra Sage.   Equine therapy exposes Sierra Sage Treatment Center students to interactions with horses from grooming, feeding, leading a horse, etc. while receiving guidance from a mental health professional. Interacting with horses during clinical therapy can bring the student a calming, grounded, non-judgmental foundation to begin the healing & growing process.
Through academic excellence, and social & behavioral progress young ladies at Sierra Sage Academy can earn the privilege of participating in the Equine Program. Participants work to maintain high standards so that as external discipline becomes self-discipline (internal), qualities of leadership, integrity and trustworthiness become habitual.
Western Nevada Cattle Women, Inc. provided over 80 pounds of beef tri-tip as well as chicken for the Barbeque.  Western Nevada Cattle Women, Inc. is the longest running women's organization in Nevada and covers Douglas, Carson, Washoe, and Lyon counties in Nevada; and Alpine & Mono counties in California.
The following photogallery highlights participants and sponsors of Hope Roundup 2023 (click on a photo for gallery to enlarge and begin):
Rebekah Graham is the Program Director at Sierra Sage Treatment Center and has been with the program for over 8 years in Yerington. Support Staff from Sierra Sage, Equine Program Participants, Sponsors, as well as Beka's own parents and in-laws participated in putting on a delicious dinner, raffle, auction and informational presentation.
Yerington Theatre for the Arts YTA  including President Nick Beaton, Vice-President Amanda Aldridge, and Jeff Page  assured that water, soda, and drinks were flowing.
Here is some more in-depth information about the Sierra Sage Equine Program: