Helen Elizabeth Adrian passed away peacefully at her home in Yerington on Sunday, May 7, 2023.  She was 99.
Helen was born on November 15, 1923 in Moorehead, Minnesota the daughter of Earl and Ann Wylie.  Her family lived there until Helen was 12 when her parents bought a farm and moved to Sydney, Iowa.  Helen and her brother helped with the cattle, haying, gardening and picking up the potatoes in the field.
Helen graduated high school at the age of 16 and went to college in Nebraska and received her teaching degree at the age of 18.  After graduation she moved to Chula Vista, California to help in the World War II effort.  Her first job was at ROHR Aircraft Corporation putting aircraft parts together.  She then transferred to the Navy and worked in the shipyard receiving department.  It was during this time she had a pen pal named Gene who turned out to be the love of her life.  They were married March 3, 1946, they had 70 wonderful years of marriage until Gene passed away in 2017.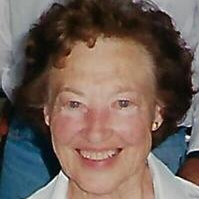 After marrying, their life started in Alaska where Helen worked in a bank while Gene finished his college degree in mining.  Their first child, Therese was born there.  Their next move was to Lima, Peru where they lived for 5 years.  It was there Helen and Gene extended their family with a foster son, John.  Years later Helen had another daughter, Joanne.  In 1962 Helen and Gene settled in Yerington where they lived for 50 plus years.  Helen loved having a permanent home where she enjoyed being a stay at home Mom to her three children.  Helen loved flowers and planted them everywhere on their new acre of land.  She enjoyed canning the fruits and vegetables from the yard and baked everything from scratch.
Helen was a member of the Holy Family Catholic Church, she helped with the Guild and rummage sales.
Helen is survived by her daughter, Joanne, her daughter-in-law, Shelly and her grandchildren, Leslie, Larry, John, Renee, Shellie, Landi, Megan, Tina, Jennifer and 18 great-grandchildren and 4 great-grandchildren as well as numerous nieces and nephews; by her three brothers, Jim (Karen), Joe and Ray.  She was preceded in death by her parents; her husband, Gene; her daughter, Theresa; and her son, John.
Helen's memorial Mass will be held 12:00 Noon on June 3, 2023 at Holy Family Catholic Church, Yerington.  A celebration luncheon will follow the service at the church to be held at her Daughter's home, 506 Madden Lane. 
Family and friends are invited to sign her online guest book at www.FRFH.net.  Arrangements are under the direction of Freitas Rupracht Funeral Home, 25 Hwy 208 Yerington, Nevada 89447 (775) 463-2911