Juan "John" Ismael Villa was born on June 16, 1949 in San Juan de Marcona, Peru to Moises Villa and Elena Huachallanqui.  Orphaned at the age of 8, he found his forever family with Eugene and Helen Adrian while in the hospital recovering from severe illnesses and multiple surgeries.
The Adrians, John, and his sisters Therese and Joanne settled in Yerington, Nevada in the early 1960's.
John attended Yerington schools and was active in sports, the church, and the community.  He graduated from Yerington High School in 1968. Shortly after, he married and started his family, raising his three kids in the community.
During his time in Yerington, John owned his auto mechanic shop and was actively involved in the community coaching youth sports, playing softball, hunting, fishing and spending time with family and friends.
In 1990 John moved to Reno where he worked as a top salesman for Summit Racing and as a park ranger at the Sparks Marina.
In 1999 John reconnected with his old friend Shelly, who turned out to be the love of his life.  They married in 1999 and have spent the next 23 years caring for his parents and enjoying their children, grandchildren, and great-grandchildren.
On February 2, 2023, after a brief but valiant two month fight against cancer, John went peacefully…with his wife and family by his side.
John is preceded in death with his biological parents Moises Villa and Elena Huachallanqui, his father Eugene Adrian, and sister Therese Anderson.
John is survived by his wife of 23 years Shelly; mother Helen Adrian; sister Joanne McGuire;  his children ~ Leslie Williams (Wes), Larry John Villa (Staci), Renee Villa-Harper (Jared), step daughters Tina Brinkley (Meredith) and Jennifer Aiazzi.  He also leaves behind fifteen grandchildren and four great-grandchildren.
Funeral services will be held 11:00 a.m. Friday, February 17, 2023, at the Holy Family Catholic Church in Yerington, Nevada.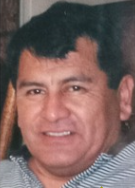 A luncheon reception celebrating John's life will be held at the Catholic Center immediately after the graveside service.  In lieu of flowers, please consider a donation to the Boys and Girls Club of Mason Valley in memory of John's long time commitment to youth in the community.
Family and friends are invited to sign his online guest book at 
www.FRFH.net