August 14, 2022     The sun rose over those runners, walkers and support crew camped on Sunrise Pass: To the east lay Smith Valley and Mason Valley from where they'd come the day before; and to the West toward Carson Valley at the foot of the Sierras where they'd be travelling on this second day.
Sharing this journey had introduced new friends and cemented old friendships.
This Remembrance Run, hosted by 18 year old Kutoven Stevens, "for those who ran, those who survived and for those who did not make it home" was marked by reverence, understanding and hope: Reverence for those who suffered; Understanding of what 8 year old Frank 'Togo' Quinn went through to run 50 miles home to the arms of his loving family; and Hope that present and future generations embrace human rights & kindness for all peoples, all cultures.
The final rest stop at the 50 mile mark was near Stewart Indian School on a lot overlooking a meadow.
Billy Mills, Olympic Gold Medalist in the 1964 10,000 meter run and founder of non-profit Running Strong for American Indian Youth & DREAMSTARTER programs, joined the Remembrance Run travelers at the last rest stop. With mindful words of wisdom and encouragement, Billy took the time to speak with the group and with many individuals before he led them down the last mile to the Dat So La Lee Cemetery.
The Steward Indian School,  "operated as a federal boarding school for Great Basin Tribes from 1890-1980," according to the official brochure for the Stewart Indian School Cultural Center & Museum.
The original federal policies to take Native American children from their families and place them in boarding schools were to assimilate the children with the Euro-Christian culture and completely remove them from the Native American Culture and Language.
The children buried in the Dat So La Lee Cemetery died far from the love and comfort of their families.
After the Remembrance Run travelers, Washoe and Stewart community members, and more offered blessings and ceremonial gifts to remember Native American children who suffered in compulsory boarding schools, the group moved to the gathering area near the Stewart Indian School Cultural Center & Museum.
Artist Michael Rowder from Portola, California, longtime friend of Pat & Billy Mills presented  a painting titled "To Togo".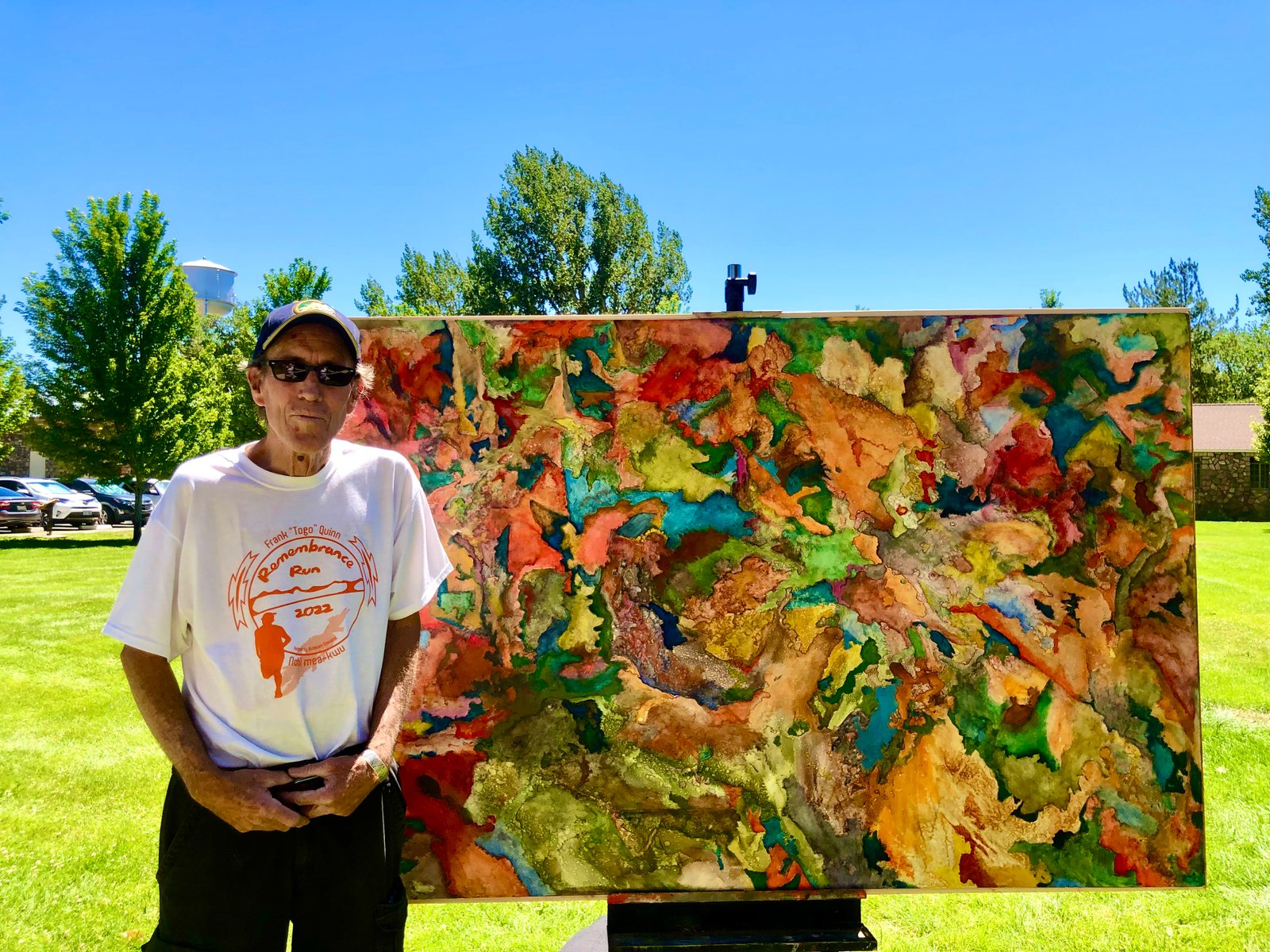 Under the shade of some tall trees blowing in the breeze with emerald grass underfoot, even more people had gathered to Remember: "for those who ran, those who survived and for those who did not make it home".
Speakers included Washoe Tribal Representative Irvin Jim, Walker River Tribal Chairman Amber Torres, Governor Steve Sisolak, US Senator Catherine Cortez-Masto, Billy Mills and Kutoven Stevens.
Two-spirit storyteller and poet Shui'na Sko' (meaning Singing Springs as named by her by tribal elders when she was 3 years old) from the Klamath Tribe ended the ceremonies with words and deliverance that touched the hearts of many.
Here is a photo by Norma Cummings that is a portrait from Sunrise Pass of Norma, Shui'na Sko', Delmar and Misty Stevens: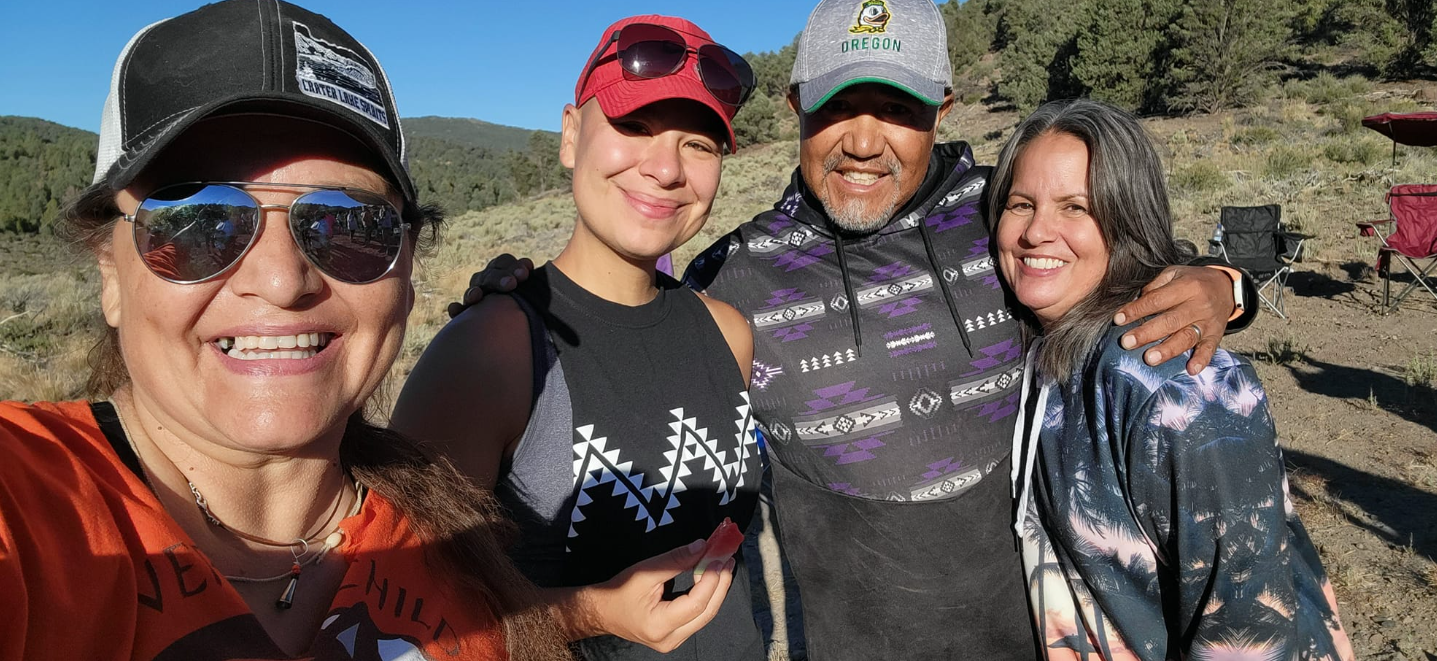 Paige Bethmann and her dedicated film crew of She Carries Her House Production Company has "finished the principal photography REMAINING NATIVE, a documentary that has been a year in the making…" 
Documentary film REMAINING NATIVE is described as, "A story of Indigenous resilience, reclamation, and pride as 17 year-old Ku Stevens runs the 50 mile escape route of his great grandfather, Frank Quinn, who fled from Indian boarding school at only 8 years old."         http://www.remainingnativedocumentary.com/
And finally, the boy who became a man ~ a burgeoning leader ~ the one who dropped a stone in a pond and began profound ripples in the fabric of our understanding of Native American culture: Kutoven Stevens.