June 11, 2022  Saturday evening the Hope Roundup 2022 offered a BBQ Beef Tri-Tip & Chicken dinner, children's carnival,  music & dancing to the Steven Denmark Band, raffle extraordinaire, and a live auction with over-the-top offerings…all to benefit the equine therapy program at Sierra Sage Treatment Center.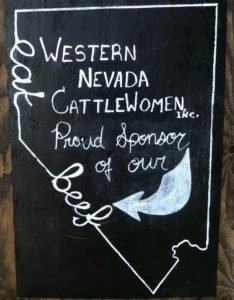 Aimee Hennarty and Dailynn Palmer run the horse program for Sierra Sage, offering the direct therapeutic contact between the horses and the students. Equine therapy exposes Sierra Sage Academy students to interactions with horses from grooming, feeding, leading a horse, etc. while receiving guidance from a mental health professional. Interacting with horses during clinical therapy can bring the student a calming, grounded, non-judgmental foundation to begin the healing & growing process.
Western Nevada Cattle Women, Inc. co-sponsored this event with Sierra Sage Treatment Center.  Western Nevada Cattle Women, Inc. is the longest running women's organization in Nevada and covers Douglas, Carson, Washoe, and Lyon counties in Nevada; and Alpine & Mono counties in California.
Miss Rodeo Nevada 2022 Gabby Szachara attended and participated in the Hope Roundup 2022 in support to the students at Sierra Sage Academy. Tip Holloway, a professional auctioneer, volunteered to run the auction.  Jack and Dorothy Franklin catered the barbeque.
Sierra Sage Academy Director Beka Graham, Aimee Hennarty,  Dailynn Palmer along with other staff and students planned & implemented all aspects of the Hope Roundup with major organizing & implementation from Nevada Cattle Women Linda Huntzberger, Ashley Huntzberger and Emily Fulstone.
It takes a village, and this village cares deeply for the students at the Sierra Sage Academy.
"Rite of Passage ATCS –  Sierra Sage Treatment Center – is a federal 501(c)3 non-profit and all donations are tax deductible."