Terry Butcher passed away on October 25th, 2021. He was born in Long Beach, California on June 28, 1944 to Dan and  Ardess Duhon.
Terry was adopted by Ed Butcher and grew up close to his family including brothers Randy and Rick, and his cousin Ron Orach.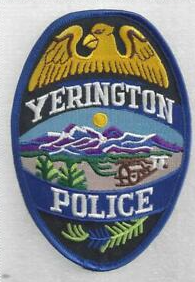 Around 1974 Terry moved to Yerington, Nevada where he went to work for the Yerington Police Department in November of 1976. In February of 1977 he was promoted to Sergeant.
In 1978 he began work with Sierra Pacific Power Company, where he retired some 28 years later in 2007.
In 1987 and 1988 Terry adopted two sons, Justin and Michael. The two boys were the center of his heart always.
Terry is preceded in death by his parents, several aunts, uncles and cousins, and by his older son, Justin.
A celebration of life for Terry will be held on Saturday January 22, 2022 from 11am until 2pm at 403 Terrace Lane in Yerington.
Pizen Switch Times thanks Tammie Reid for the information about Terry.