It is with great sadness that the family of Lillian Bencoma announces her passing. She was 52 years old and a longtime resident of Schurz, Nevada. She passed away on November 6, 2021. 
Lillian was born and raised in Schurz. She attended Schurz Elementary School K-8. After graduating from there she attended Mineral County High School in Hawthorne, Nevada.
Lillian was a forklift operator at the Hawthorne Army Ammunition base for over 20 years. After leaving that job and moving to another town she found a job as a forklift operator at Quad Graphix for a few years before moving back to Schurz.
Lillian was a dedicated mother. She treasured her children and embraced every moment with them. She especially loved her role as grandmother to her 5 grandbabies.
She had a vivacious personality and always made people around her laugh. She had a smile for everyone and made friends everywhere she went. She loved having family and friends around her and made everyone feel welcomed and was a loving, caring, generous person.
She will be greatly missed by all who knew and loved her.
Lillian was preceded in death by her mother, Pauline Powell; sister, Charlene Powell; brothers, Gerard Powell and Johnny Powell.
She is survived by her children ~ Eric Dixon, La Shelle Birchum, Charles Birchum; grandchildren ~ Jeralyn Dixon, Liam Dixon, Eena Phoenix, Serenity Phoenix, and Mileyah Wollweber; sister ~ Wana Bencoma; brother ~ Wayne Powell; and numerous nieces, nephews, and cousins.
A viewing will be held on Friday, November 12th from 3 to 4 pm (for immediate family only) at Smith Family Funeral Home, 505 Rio Vista Drive in Fallon.
Graveside services will be held on Saturday, November 20th at 11:00 am at the Schurz Cemetery located on the Walker River Reservation.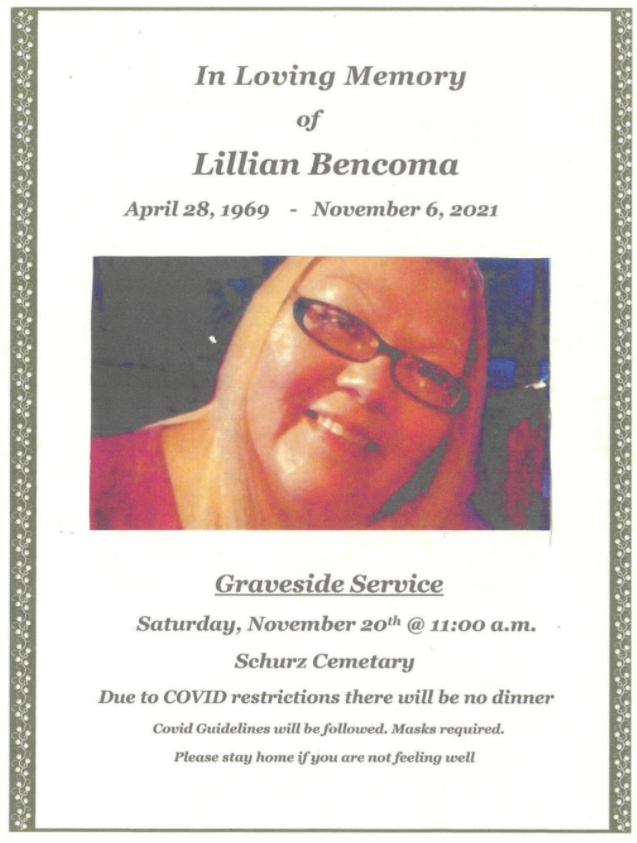 Obituary shared from The Fallon Post : the fallonpost.org