It is with great sorrow our family announces that our loving mother, Nan Sayre, peacefully passed away early Tuesday morning, November 2, 2021 in Reno, Nevada. She was 90.
Nan was born June 4, 1931 in Baldwin Park, California to Sid and Inda Chidwick and grew up with her older sister Pat and her twin brother Don. In 1946, she moved with her family to Smith Valley, Nevada. She was active in sports and all school affairs. She graduated from Smith Valley High School in 1949 and went on to attend Reno Business College where she worked for Western Union in Reno.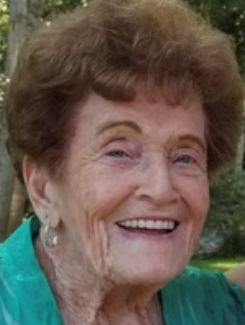 Nan married Wes Sayre on September 6, 1953 in Smith Valley, Nevada. They moved to Yerington and had 4 children. She was very active in her children's lives, involved in the Hospital Auxillary, active with the Methodist Church and a member of Preceptor Rho Chapter of Beta Sigma Phi. After retiring from 27 years at Petrolane, they enjoyed traveling, visiting family and loving life.
She is survived by her children, Roger Sayre (Kim) of Dayton, Nevada; Brenda Farler (Jim) of Abilene, Texas; Judy Toebe (Harry) of Yerington, Nevada; and Debbie Schaut (Steve) of Maple Valley, Washington. She has six grandchildren and five great grandchildren with one on the way.
She is preceded in death by her Mom & Dad, husband Wes, twin brother Don, sister Patricia, and grandson Josh Farler. Her family and friends meant everything to her.  Mom, you will always be alive and by our side, living in our memories, and our dreams. We will see you again someday, until then, it's goodbye for now.
A Celebration of Life will be held on November 20th @ 11:00 am at the United Methodist Church, Yerington, NV. In lieu of flowers, donations can be made to the Josh Farler Helping Hands Foundation or the United Methodist Church.  Family and friends are invited to sign her online guest book at www.FRFH.net
Arrangements and Cremation are under the direction of Freitas Rupracht Funeral Home, 25 Hwy 208, Yerington, Nevada 89447 (775)463-2911.