Kevin Kirk grew up in Mason Valley and is a stand out athlete at Dixie State College in St. George, Utah. His parents, Jerri and Bob, his sister Kami, and his extended family members travel frequently to attend his cross country competitions.
Kevin was born in Reno but lived in Yerington and went to all 3 Yerington schools.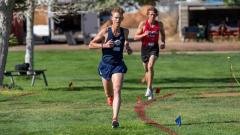 When he was
in Intermediate School he wanted to run Cross Country and they did not have a team. He asked to run with the High School team and  NIAA  (Nevada Interscholastic Activities Association) told Kevin and the schools that it was against the NIAA rules. So a team was developed for YIS.
Kevin ran Cross Country and Track all 4 years of High School, played 1 year Junior Varsity basketball and 3 years Varsity basketball. He graduated  from Yerington High School in 2018.
Dixie State University in St. George, Utah recruited Kevin Kirk to run Cross Country for them. He will graduate in May 2022 with a double bachelor: One in Exercise Science and one in Recreation & Sport Management. He wants to go on for his Masters in Kinesiology. He does not want to come back to Yerington except to visit but his parents are hopeful…
Kevin's race on October 30th was an 8K (5 miles). His time was 24:05. He placed 9th and received 1st Team All Conference in the WAC Western Athletic Conference.  He shattered the DSU School record which was 24:31.
Kevin Kirk also holds the 5K and 6K records  in Cross Country at Dixie State University.
Pizen Switch Times thanks Jerri Marriot Kirk for responding to requests to share these photos and information.
Kevin Kirk is a fine example of the high caliber athletes, students, and young adults that have grown up in Mason Valley.