Pizen Switch Times is pleased to introduce Mason Valley photojournalist James R. Bull also know as Nevada Bull. Editor Leah Wilkinson took note of a photo that Jim's wife Karen Kay Bull posted on Facebook on which she wrote: " 'Jim' James R Bull 82 and going strong."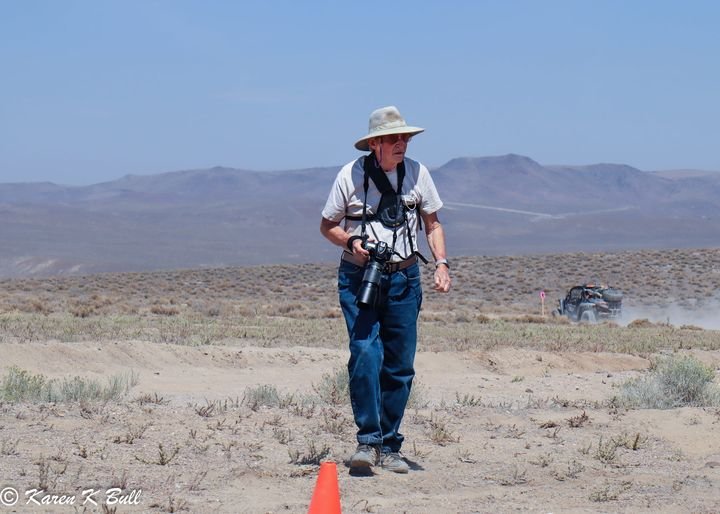 Leah wrote to Jim on Facebook, and Jim graciously agreed to share his photos with Pizen Switch Times readers.
The following photos were from last weekend's VORRA (Valley Off Road Racing Association) poker run and race. Jim and Karen were out in the heat and dust to bring us some amazing shots, local riders included.
Jim wrote, "I shoot Nikon RAW and Canon CR3 files, process in Adobe Lightroom, sharpen with Topaz Denoise AI, or remove motion artifacts with Topaz Sharpen AI.  You may notice the subject in most of my photos is off center, when possible, because I try to guide the eye to where I want the viewer's eye will look first.   I export photos to .jpg with a logo in the lower left corner.  I do not copyright my photos, so there's no problem publishing them.
This first group is from the Saturday MX and UTV races, with several photos from the Poker Run…I always download the published gps file for races and we check out where we might get the best shots and avoid crossing the track on race day.   I look for places with ditches (speed bumps) across the tracks.  We shot the VORRA photos at the Pro Pit.  Officials and workers there were friendly and helpful.
There is a ditch where the track crosses on the East side of Pro Pit, and a Curve and high bank on the West side.  Both were good for shooting the "frequent fliers"…The attached photos are those I felt the skills of the riders and drivers."