With ongoing major local issues looming in Mason Valley and all of Lyon County, Nevada (few to no housing rentals; high cost housing; broadband accessibility; road, water, wastewater infrastructure challenges, etc.),  Lyon County Chairperson Vida Keller of Silver Springs issued a controversial proclamation to name the Justice Center in Yerington the "Donald J. Trump Justice Complex."
This proclamation is on the agenda for discussion at the next Lyon County Commissioners monthly meeting on Thursday, August 5th in Yerington at 27 S. Main Street starting at 9am.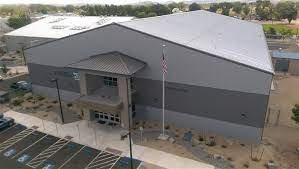 In July, after Commissioner Ken Gray proposed to name a street in Dayton after former President Trump, the Lyon County Board of Commissioners  eventually voted 3-2 against it: Henderson, Hockaday, Jacobson against; Gray, Keller for.
Public contact for elected commissioners provided at: https://www.lyon-county.org/205/Board-of-Commissioners
Wes Henderson – District 1
117 Denio Drive
Dayton, Nevada 89403
Phone: (775) 461-6296
whenderson@lyon-county.org
Vida Keller, Chair – District 2
P.O. Box 201
Silver Springs, Nevada 89429
Phone: (775) 461-6275
vkeller@lyon-county.org

Ken Gray, Vice Chair -District 3
1128 Cheatgrass Drive
Dayton, NV 89403
Phone: (775) 461-6223
Phone: (775) 220-1935
kgray@lyon-county.org

Robert Jacobson – District 4
1040 Truckee Lane
Fernley, NV 89408
Phone: (775) 461-6298
rjacobson@lyon-county.org
Dave Hockaday – District 5
12 Juanita Lane
Wellington, NV 89444
Phone: (775) 461-6302
dhockaday@lyon-county.org